Melodic Metal Mentality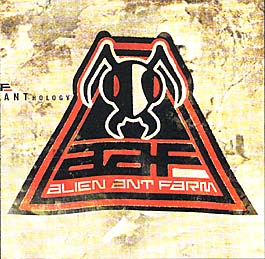 By Tony Bonyata

On their sophomore album, ANThology, Riverside, California-based Alien Ant Farm has been thrust into the spotlight with a jacked-up version of Michael Jackson's 1988 hit "Smooth Criminal," and in MTV's vast musical wasteland it couldn't sound fresher.
While this power-pop quartet, consisting of vocalist Dryden Mitchell, guitarist Terence Corso, bassist Tye Zamora and drummer Mike Cosgrove, aren't about to deliver rock's new gospel, their heavy, expertly timed rock, filled with distressed guitars, catchy melodies and topped off with a dollop of punk swagger, is a welcome face in today's non-descript crowd of punk posers and rap-metal apes.
From the pounding opening of "Courage" and invigorating zeal on the number "Movies" to the bone-breaking rhythm and taunting guitars of "Sticks and Stones," A.A.F. proves to be one of the more promising bands in their clumsy genre.
Mitchell's vocals are filled with an earnest passion throughout the album, while the rest of the band lays down some of the tightest metal that the current MTV generation has heard in quite a while. Their love for pop is apparent on songs such as Jacko's "Smooth Criminal" and the melodic "Summer," but they also manage to incorporate other interesting elements, such as a new wave / reggae guitar attack reminiscent of The Police's Andy Summer on "Flesh and Bone," while fluid guitars rush on "Stranded" and speed metal never sounded so downright likable as on "Wish."
They might just be this summer's flavor of the day, but with a catchy sound that hits this hard, Alien Ant Farm is a fresh taste that you're going to want to savor.