Maxwell / Alicia Keys
Riverside Theatre
Milwaukee, WI
September 25, 2001

Alicia Keys

Story and Photos by Phil Bonyata

The double bill of psuedo-soul forces Maxwell and breakout newcomer Alicia Keys found every seat warm at the Riverside Theatre on Tuesday night. Keys, riding the high of her platinum-plus success of her debut album Songs in A Minor, opened the soul lovefest in skin tight blue jeans, black leather jacket, low cut banana yellow top and ubiquitous hat. This girl has an innocent, yet dangerous physical appeal. She coyly smiles as she flips her head back and teases the audience. She is as comfortable pounding the electric piano as she is getting up and strutting around the stage like a runway model that designed her first set of clothes.
Key's vocals are deeply rooted in gospel traditions, but influenced by the velvety soulfulness of Sade and the perkiness of Jewel. On the R&B clad numbers like "Girlfriend" and on the cover of Prince's "How Come You Don't Call Me Anymore?," Alicia let her vocal chords ring out with a richness that tickled more than your ears, the purity pitched a tent deep inside. Textured and buttery she hung onto certain notes like a distraught mother reunited with her lost child. The crowd's biggest reaction came from her bust out hit "Fallin'" in which she gladly traded the stage dance for the stationary, yet focused seat at her piano and let the fans concentrate on her music rather than being distracted by her sensuous and seductive stage persona.
After a bit of a wait, Maxwell stormed the stage clad in faded jeans, white T-shirt and an afro large enough to make the Mod Squad jealous. He opened with the mellow R&B ballad "Sumthin' Sumthin'" from his his debut album Maxwell's Urban Hang Suite. On other melodies like "Lifetime," "For Lovers Only" and "'Til the Cops Come Knockin'" Maxwell's smooth and soulful crooning flamed the desires growing in the many women in attendance.
Maxwell's music is not fresh, not relevant, nor very original but you can't fault a guy who has the power to make women's blood rush faster and their hearts beat a bit faster.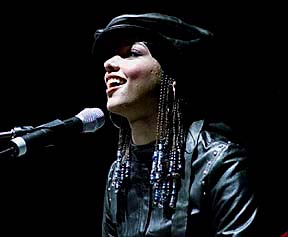 Alicia Keys