Heirs apparent?
Devon Allman Project with special guest Duane Betts
Fox Theatre
Tucson, AZ
May 25, 2018
| | | |
| --- | --- | --- |
| Devon Allman Project | Devon Allman Project | Duane Betts |
Review and photos by Frances Sealy

Devon Allman has chosen NOT to ride on the coat tails of his famous father, Gregg Allman. His parents divorced when he was very young and he did not meet his father until his late teens. Allman started playing guitar before he met his father. He has been a singer, songwriter, guitarist, and a producer since then. He has cut his own path in music in the bands Honeytribe, the Royal Southern Brotherhood, and now the Devon Allman Project.

Duane Betts on the other hand, as a child, traveled with his father Dickey Betts as he toured with the Allman Brothers Band. Betts was able to learn as he grew up his dad's guitar style and started playing guitar as a youngster. Both entertainers were born and bred with music. It seems natural for the two to collaborate with this tour.

Betts opened the show with a 35-minute set backed by John Stachela on guitar, and Allman's bass player and rhythm section. One could close your eyes and imagine the elder Betts was playing. That may be partially due to the fact that he was playing Dickey's signature Goldtop guitar. Betts has played in the past with Dawes and been a member of Backbone 69. Betts was able to get that down and dirty vibrato as he shredded with the power of a legend.

As a short intermission, Devon Allman started his set that seemed like a revival of the Allman Brothers Band, but within a few minutes, Allman proved himself an electrifying singer and guitarist. The show did not ignore his father's musical legacy. This was a set filled with a balanced variety of new and old tunes. The first part of the Allman set was a blend of songs from his Honeytribe, solo, and Royal Southern Brotherhood days.

A highlight of the show was their "Midnight Lake Michigan" jam. It was a soaring instrumental with guitar solos by both Allman and Betts. The crowd was on their feet and screaming during many moments. "Melissa" was given a striped down treatment. All the musicians left the stage to allow Allman to do an acoustic version of Tears For Fears' "Everybody Wants to Rule the World." The last 30 minutes of the show was devoted to the timeless music of the Allman Brothers.

If you want to look good, you surround yourself with the best musicians that you can find. Allman has mastered that beautifully. Jackson Stokes played some amazing guitar solos and added vocals. Justin Corgan was given several opportunities to show his bass skills and that was a great thing. R. Scott Bryan on percussion and John Lum on drums were impeccable. Third year "The Voice" alumnus, Nicholas David, supplied keyboards and vocals. David was given a solo song with "Lean On Me." It was great to see and hear his soulful delivery of a song. John Stachela provided some incredibly sweet slide guitar to round out the set.
Set List:
1. Mahalo (Devon Allman's Honeytribe cover)
2. Ten Million Slaves (Otis Taylor cover)
3. Don't Matter Anymore
4. Left My Heart In Memphis
5. I'll Be Around (The Spinners cover)
6. Friend of The Devil (Acoustic)
7. Melissa w/Duane Betts
8. Everybody Wants to Rule the World (Tears for Fears cover)

9. Lean On Me
10. Midnight Lake Michigan

Encore:
11. Dreams (The Allman Brothers Band cover)
12. Blue Sky w/Duane Betts
13. Multi Colored Lady
14. Seven Turns w/Duane Betts
15. Midnight Rider w/Duane Betts

| | | |
| --- | --- | --- |
| Duane Betts | Devon Allman Project | Duane Betts |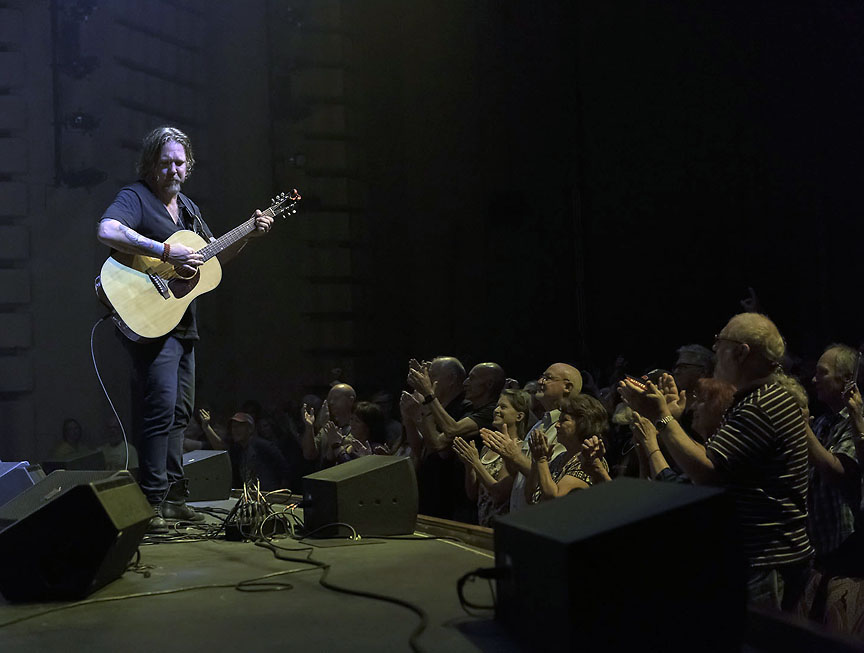 Devon Allman Project
| | | |
| --- | --- | --- |
| Duane Betts | Duane Betts | Devon Allman Project |
| | |
| --- | --- |
| Duane Betts | Duane Betts |
Return to Reviews
Return to Livewire
Copyright © ConcertLivewire.com™; All Rights Reserved