Blackberry Smoke crushes the jams
Blackberry Smoke with The Cadillac Three
The Rialto Theatre
Tucson, AZ
July 21, 2017
| | | |
| --- | --- | --- |
| Blackberry Smoke | Blackberry Smoke | Blackberry Smoke |
Review and photos by Frances Sealy

Tucson has had multiple genre concerts to choose from over the last week. All have been outstanding and the Blackberry Smoke/The Cadillac Three package continues the plethora of fantastic talent brought to the 'Old Puelblo.' Southern rock and country never sounded better at the Rialto Theatre. Both bands have front men that know how to push the boundaries of a crowd to a pulsating mass of energy.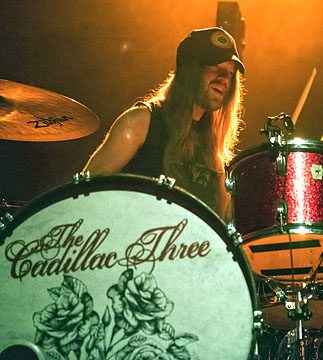 The Cadillac Three is Kelby Ray on keyboards and bass, Jaren Johnston on guitar, and Neil Mason on drums. They offered tasty morsels including "Tennessee Mojo," "Drunk Like You," and "Bury Me in My Boots." Jaren got more audience participation as he teased and enticed fans to sing more. All members of the band had an opportunity to show their bountiful talent. Jaren has serious stage presence and full control of the crowd from the start of the set.They have a new album, Legacy, due out August 25th. This is a band to watch as their star rises.

Blackberry Smoke took the stage riding on the high created by The Cadillac Three and they kept the momentum going. The set hit all the marks creating guitar goodness as they shifted from southern rock to country to boogie to blues. Front man, Charlie Starr, doesn't kibitz with the crowd quite as much as Jaren did. However, he made up for that with his boss vocals, great guitar licks and stage moves. He created a comfortable groove that had staying power throughout the evening. An energetic Paul Jackson added great guitar shredding with Starr's vocals throughout the set.

The most memorable moments included the rocking "Waiting For the Thunder" which happens to be a tune from their new album, Like an Arrow. That song led directly into their "Let It Burn" boogie. "Restless" and "Sleeping Dogs" were great vehicles for keyboardist, Brandon Still, to show his stuff. There was also stellar guitar work on "Sleeping Dog" jam. Brothers Brit Turner on drums and Richard Turner on bass did some awesome work during "Sleeping Dogs." That led into a delicious rendition of their Beatles cover of "Come Together." One cannot overestimate the skill and musicianship of this band.

The fans eagerly sang along with the band in songs like "Ain't Got the Blues." The "Like an Arrow" tour is promoting Blackberry's most recent album of the same name. It hit the Billboard country charts at number one in October. Many of the songs in the set were from the new album and yet there ain't no rest for the wicked as the band is already working on another new album. This was an upbeat, fun, and soul-shaking show.
Set List:
1. Let Me Help You (Find the Door)
2. Six Ways to Sunday
3. Good One Comin' On
4. Ought to Know
5. Crimson Moon
6. Waiting for the Thunder
7. Let It Burn
8. Restless
9. Sleeping Dogs / Come Together
10. Shakin' Hands With the Holy Ghost


11. The Good Life
12. Lay It All On Me
13. Ain't Got the Blues
14. Up in Smoke
15. One Horse Town
16. Who Invented the Wheel
17. Like an Arrow

Encore:
18. Believe You Me
19. Ain't Much Left of Me

Related articles:
Blackberry Smoke - Concert review - Tucson, AZ August 2014
Blackberry Smoke (Country Thunder 2011) - Photo Gallery and video - Twin Lakes, WI July 2011
| | | |
| --- | --- | --- |
| Blackberry Smoke | Blackberry Smoke | Blackberry Smoke |
| | | |
| --- | --- | --- |
| Blackberry Smoke | Blackberry Smoke | The Cadillac Three |
Return to Reviews
Return to Livewire
Copyright © ConcertLivewire.com™; All Rights Reserved