FOLK BLUES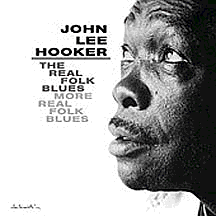 By Tom Schulte

Universal Music Company, the world's largest music conglomerate, continues to reissue classic recordings from its bottomless vaults as outlined at www.universalchronicles.com. The MCA-Chess segment of this concern now puts out the classic blues album series the Real Folk Blues and More Real Folk Blues combined onto four individual CDs separately representing some of the best recordings made by Muddy Waters, John Lee Hooker, Sonny Boy Williamson and Howlin' Wolf. These records originally came out during the folk blues popularization period of the '60s: The Real Folk Blues was issued in 1966 and a More Real Folk Blues in 1967. (The Hooker More Real Folk Blues album was not discovered and released until 1991). Each pair of albums for each artist are now digitally remastered but conveniently combined onto one CD, with original artwork and liner notes plus a new historical essay. The four MCA/Chess/UME albums are the latest additions to Blues Classics Remastered & Revisited, a major UME series of the most significant and popular blues albums in history.



---


Howlin' Wolf's Real Folk Blues marks him as the original bad boy of this blues resurgence period with such rugged anthems as "Killing Floor," "Tail Dragger" and "I'm The Wolf." The sound of this giant man and his big-sounding Hohner harmonica still reverberates today. The veteran bluesman provides song from as far back as 1956 ("The Natchez Burnin'") to latter material like 1965's "Sittin' On Top Of The World" here. The flashback is the focus on More Real Folk Blues moving chronologically from 1953 Memphis recordings made before Wolf's move to Chicago to 1956 tracks from 1955 for an overview rarities collection from the 300-pound blues master.



---


Muddy Waters' Real Folk Blues similarly looks back on the career of a man that was a legendary blues performer by that time. This time we skip all the way back the '40s, for example "Canary Woman" (1947) on up to some of this current releases, like "The Same Thing" (1964). This is a diptych picture of Waters' career up to then: half the recordings come from 1947-1950 and the rest from 1955 ("Mannish Boy") to 1964. This gives us a portrait of the man as rural blues troubadour and later urban blues innovator. As with Howlin' Wolf's album, More Real Folk Blues looks at the nascent beginnings of Waters' career. We here material from 1948-1952 plotting the ascendancy of Muddy Waters from a slide guitarist with bass accompaniment on the 1948 tracks to the fuller band sound of the early fifties as Muddy used later became a rock trio combo create the urban blues genre.



---


Sonny Boy Williamson, acknowledged harmonica king, reigns supreme though his Real Folk Blues album. Praised by Willie Dixon as "one of the most amazing persons I have ever known," the seminal harp master inspired everyone from Junior Wells to James Cotton. Williamson was the only member of this Mount Rushmore of blues artists already deceased when these recordings were issued. 10 of the 12 tracks on The Real Folk Blues are from 1960-1963 and represent the culmination of the artist's career: melodic, emotional, song-oriented rootsy blues. Though Williamson had been recording for Chess since 1955, More Real Folk Blues again targets the last few years, 1960-1964, featuring guitarist Buddy Guy on Dixon's "Close To Me" as well as "Decoration Day," "Trying To Get Back On My Feet" and more.



---


The signature "One Bourbon, One Scotch, One Beer" and such memorable offerings as "Let's go out Tonight" mark John Lee Hooker's Real Folk Blues collection. Already owning a thoroughly incorporated formula for the blues by this time, Hooker laid down all of the 18 tracks on both albums in one productive 1965 session. His idiosyncratic rhythms, as on the free-form versification in "Let's go out Tonight" and the simple, primal rhythms echoing from his boot-stomp days make these albums a cohesive document when packaged together and a still vital, thumping, visceral collection of tough-boogie blues.


Here's Your Chance to.... Respond!


Your feedback will be featured on
Rant or Rave within 24 hours.