blur: the best of
(Virgin Records)
4 stars (out of 5 stars)
Reviewed: Nov. 25, 2000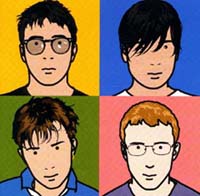 By Tony Bonyata

There are a lot of musical groups where the only album worth plunking your hard earned cash down on is a greatest hits collection, but Blur is not one of them.
Not that this Brit-pop band's newly released greatest hits collection, entitled blur: the best of, isn't worth it. On the contrary, this eighteen song anthology is a well-rounded overview of one of the most influential bands of the "Second British Invasion," who helped usher in the likes of Pulp and musical rivalries and whining egotists Oasis. But unlike a good majority of artists, where the material that doesn't make the 'best of' grade is often better forgotten, all of Blur's six studio albums are filled with energized, challenging pop songs with a snotty English attitude that could serve as their own 'best of'.
From the bombastic punk anthem "Song 2," and cockney pop of "Parklife" to the punk-meets-disco "Girls and Boys" and infectious guitar and follow-the-bouncing-pint of ale chorus of "Charmless Man" these boys give new hope to Old Blighty's pop music landscape. Expanding beyond the standard guitar / bass / drum-based pop, Blur adds swirling strings and horns to "The Universal" and a gospel choir to the song "Tender."
This collection comes exactly ten years to month after their debut single "She's So High," which is featured here in all its effervescent glory. Also included alongside other gems like "Country House," End of a Century" and "Beetlebum" is a newly recorded number, "Music Is My Radar," which, with vocalist Damon Alburn's matter-of-a-fact delivery and snappy refrains along with Graham Coxon's otherworldly guitar squalls, fits quite comfortably next to the material chosen here.
For the initial pressing of this collection, a limited edition bonus live CD, recorded last year at London's Wembley Arena, is also included. But since eight of the ten songs on this live collection are also included as studio tracks from the 'best of' disc it seems a bit overkill. But for hardcore fans of this great band, this bouncy, high energy live performance should not be overlooked.
The best thing about these guys is that if you intend on picking up this 'greatest hits' collection and mistakenly grab one of their studio albums instead, it's OK because what your left with is essentially Blur's best, whether the songs hit the charts or not.