New Lesson from Old School Punkers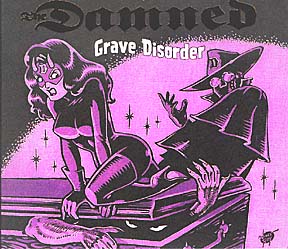 By Tony Bonyata

While the Sex Pistols and The Clash often get sighted as the founders of the punk rock movement overseas, the first truly British band to emerge from this angry, often misunderstood genre was The Damned. (We all know, however, that, like most musical art forms throughout history, punk was started right here in the good old U.S. of A. with bands like The Stooges and The Ramones.)
Although the majority of punk bands from their era crashed and burned into obscurity, The Damned have risen from the ashes of old-school punk just in time to show their younger musical offspring what they've missed in the translation. Led by two of the band's founding members, vocalist Dave Vanian and guitarist Captain Sensible have recruited the talents of bassist Patricia Morrison (Gun Club, Sisters of Mercy, The Bags), drummer Pinch (English Dogs, Janus Stark) and keyboardist Monty Oxy Moron for their latest album Grave Disorder. Despite an absence of new material over the last 14 years, this surprisingly turns out to be one on the band's strongest albums of their entire career.
While they poke fun at West Coast style punk as well as our youth's obsession with the Internet on "song.com," they also show the safety-pinned cloth that their music was torn from on numbers such as "Democracy," "W" and "Obscene," which all display not only a high level of danger, but catchy choruses, upbeat driving rhythms, along with infectious and downright poppy melodies.
"Suddenly, you are twice the man you used to be," Vanian sacastically croons as he ponders the post-humous popularity of John Lennon on "Would You Be So Hot (If You Weren't Dead?)" as the Capt. ends it out with a beautifully fluid, and very unpunk-like, guitar solo. Vanian's deep, loungey vocals hearken back to mid-eighties Iggy on "Absinthe," their ode to the Green Fairy, as well as the two macabre ballads, "'Till The End Of Time" and "Beauty and The Beast," proving that they're capable of transcending the stereotypes of punk music, while at the same time broadening the genre's horizons.
While the pounding stomp of "Neverland" would seem to pay homage to the primitive bop-rock of The Ramones, it's instead the breakneck rhythm section and kerosene soaked guitar-lines on the raw, volatile "Looking For Action"
that perfectly defines not only this legendary band, but punk rock itself. There's a lesson for the Green Days and Offsprings to be learned here from these 'old school' punkers.