Rage Without the (Rap) Machine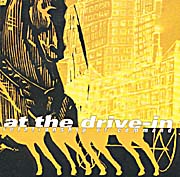 By Tony Bonyata

With the future of rock music seeming bleak (e.g. dime-a-dozen forced rap/ rock acts and throwaway teenybopper fluff), At The Drive-In, a five-piece hard rock band with latent punk tendencies, from the border town of El Paso, Texas, has just injected a new lifeblood into it with their explosive full-length debut, Relationship of Command.
Brimming with energy and attitude, Relationship of Command is a welcome return to hard rock with a fresh, hip edge - giving rock fans a level of excitement not seen since the flannel-clad arrival of grunge rock in the early '90s. Lead singer Cedric Bixler blurts out his lyrics with the passion and anger of Rage Against The Machine's Zack de la Rocha, only without the mechanical, cookie-cut rap delivery that virtually every new hard rock band is aping. Instead of trying to conform into a rap world, an unnatural act for a southern Texas act, they pull out some of the stronger traits from acts such as Jane's Addition, The Stooges and MC5. From the pounding tribal drums and corkscrew guitars that open up the album on "Arcarsenal," to the urgent power chords of "One Armed Scissor" and the runaway freight train rhythm heading for derailment on "Mannequin Republic" this is the first new promising band to help define the faceless Naughties.
Their honest punk influences on the detonating "Sleepwalk Capsules" couldn't be more lethal, while Bixler turns in a spellbinding vocal delivery that runs from the ramblings of Abbie Hoffman with soap-box shoes to Iggy Pop giving a volatile performance with everything to lose on "Invalid Litter Dept." On that same number fellow bandmembers Omar Rodriguez, Jim Ward, Paul Hinojos and Tony Hajjar turn in break-neck rhythms that stop on a dime, and tricky chord progressions and time changes that would make prog-rockers Rush beam.
Rock music, in all it's different genres and off-shoots, is an art form that is continually dying only to see a new rebirth of some kind. As rap / rock grows tiresome and crumbles, let's celebrate the birth of our new screaming baby - At The Drive-In.