Forgettable Power-Pop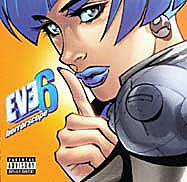 By Tony Bonyata

They were snapped up by RCA records, paraded around as the next big thing by the press and went platinum on their 1998 self-titled debut album. And that was all before they even graduated high school. Now that they're out of school and still have the taste of fame fresh in their mouths, the spotlight is back on Eve 6, a young cocky trio from Los Angeles. The focus now is rightfully turned back to their music and not how they managed to squeeze their gigs in between trigonometry homework.
Cut from the same cloth as Everclear and Blink 182, Eve 6's music is nothing new - power pop, guitar hooks galore, all with a pseudo punky attitude. It's not really punk rock, it's too middle-of-the-road to be considered hard rock and lacks the indelible melodies of the best pop rock. Despite the success of these watered-down Green Day bands, their genre's music lacks their own voice.
On their second album, Horrorscope, vocalist and bassist Max Collins, guitarist Jon Siebels and drummer Tony Fagenson certainly have the energy, but, unfortunately, it ultimately falls flat with snappy but forgettable melodies that blend into one big unmemorable song. They seemed to have purchased their punky swagger straight 'off-the-shelf,' while any hard rock tendencies that peek through seemed like they were nixed from the all the wrong acts.
From the formulaic pop of the opening number "Rescue" and "Jet Pack" to the tired obligatory power-ballad of "Here's To The Night," these boys seem more content to just go through the motions than to try and create something exciting and new.
The album does have it's moments, however fleeting they might be. "Amphetamines," features a driving Green Day-like rhythm, while they manage to work up a meaty Stone Temple Pilots groove on "Bang." These minor moments hardly warrant the purchase of an entire album, however. Like a teen's first kegger party, one that surely wasn't too long ago for these three young men, the music on Horrorscope feels okay when you're in the middle of it, but is nothing more than a blurred, forgettable experience after it's all over.