Fastball - The Harsh Light of Day
(Hollywood Records)
3 1/2 stars (out of 5 stars)
Reviewed: Dec. 24, 2000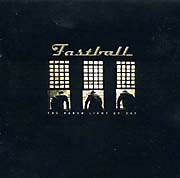 By Tony Bonyata

Can lightning strike twice? That's seems to be the question looming over Fastball, who scored huge on their second album, All The Pain Money Can Buy, with their catchy smash hit, "The Way."
On their third release, The Harsh Light of Day, this Texas alt-pop trio certainly seem to be doing everything to defy the mathematical laws of Mother Nature. With undoubtedly their strongest work to date, Miles Zuniga (vocals, guitars and keyboards), Joey Shuffield (drums) and Tony Scalzo (vocals, bass, guitar and keys) chisel out song after song of indelible melodies, catchy guitar hooks and just plain fun numbers. With influences that weigh heavy on The Beatles, Elvis Costello and Crowded House, Fastball is going against the grain of the chart dominating rap-metal caveman-chest-pounders and bubblegum ditties, with their own well-written, timeless pop.
The bouncy rocker "This is Not My Life" opens The Harsh Light of Day, setting the tone for the rest of the album. "You're an Ocean," with Billy Preston's infectious honky-tonk piano, is a finger-snapping, foot-shuffling piece of boogie-woogie in the southern-fried pop tradition of Little Feat. Stray Cat-turned-swing bandleader Brian Setzer lends his 'big' guitar sound to "Love Is Expensive and Free," while Zuniga's vocals add warmth to the melancholy melody of "Vampires." On the Scalzo penned, and sung, numbers "Wind Me Up," "Morning Star" and "Funny How It Fades Away," the post-punk, new wave pop of Elvis Costello is undeniable.
If Fastball can't score big with this collection of hook-filled songs, with more than half that scream hit single, it certainly isn't their fault. They can't help it if the Bizkits and Backstreets, at least temporarily, killed the well-crafted pop song.