Geneva Red and The Roadsters - In The Red
(Full Cyrkle Records)
4 stars (out of 5 stars)
Reviewed Oct. 6, 2000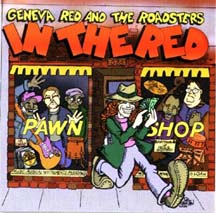 By Tony Bonyata

With a foot-shuffling rhythm section and steamrolling harmonica on the lead-off instrumental track, "First Tune, First Set," local blues artist Geneva Red sets the tone for a rollicking, rip-roaring ride through her second full length release, entitled In The Red.
Following up their strong debut album, Alley Ways, singer / songwriter / harmonica player Red and fellow Roadsters - guitarist / songwriter Jackie 5 & Dime, bassist Mark Sorlie and drummer Earl Howell, have incorporated the talents of blues stalwarts Floyd Murphy on guitar ("Big Mama" Thorton, Bobby "Blue" Bland, Johnny Ace, Matt "Guitar" Murphy) and drummer Sam Carr (Sonny Boy Williamson II, Robert Nighthawk, Big Jack Johnson) on this tasty second helping.
Recorded in the legendary Sun Studio in Memphis, the results are a major step forward for the band. The rhythm section is a metronomic spine-snapper, while 5 & Dime and Murphy's relentless guitar licks inflict a 'say uncle' pain (and, man, does it hurt good). As always, Red's harp playing is superb (one listen to her harmonica turned southbound freighter on "My Tribute To DeFord" will attest to this), but on In The Red her vocals are richer and more mature then in the past. Instead of playing second fiddle to her instrumental virtuosity, her pipes are now riding shotgun, and grabbing for the wheel.
While their debut was filled mostly with cover songs, In The Red features eleven strong, self-penned blues numbers by both Red and Jackie 5 & Dime that feel like the real deal. From roadhouse rockers like "Dancin' Shoes Shuffle," "Give Yourself A Break," complete with penitentiary call-and-response vocals, and "Syatic Blues," with a soul-selling slide guitar, to the more introspective numbers like "Hung 'n Tumbling," with Red's sultry vocals and a stinging Buddy Guy-flavored guitar solo, as well as the bone-dry Delta dirge "Cotton Ain't King," Red and company serve up a satisfying, soulful feast, with everything but the collard greens.
Paired with her juiced-up harp, Red belts out her own version of sexual double-entendres, which were a staple to early rural blues, on the plugged-in Chicago-styled stomper "Breakfast Song," while a jazzier side of the band is shown on the hip instrumental "Red's Theme."
On the number, "Cotton Ain't King," Red soulfully laments over the passing of blues greats, Blind Lemon Jefferson, Muddy Waters, Lightning Hopkins and Junior Wells. While it's true the majority of the original bluesmen have left us, Geneva Red and The Roadsters are doing a bang-up job of keeping the soul of their music alive.

Geneva Red and The Roadsters latest album "In The Red" can be purchased from Full Cyrkle Records, 5610 S. Route 31, Crystal Lake, IL 60014.