Cartoon Characters Ape Musicians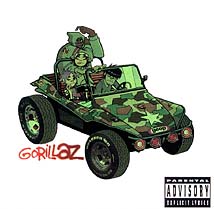 By Tony Bonyata

It's been awhile since pre-fab cartoon characters like The Archies and Josie and The Pussycats had a hold on the music charts, but with the help of animator Jamie Hewlett [of "Tank Girl" comic fame], a motley crew of fictional characters known as Gorillaz are once again making musical cartoon groups hip for an age group that has just outgrown the saccarhine fluff of 'boy bands.'
Created as the first virtual hip-hop band, Gorillaz was spawned from the fertile minds of Blur's frontman Damon Albarn and Hewlett, combining the real musical talents of the Talking Heads' Chris Frantz and Tina Weymouth, Cibo Matto's Miho Hatori and Dan "The Automator" Nakamura.
Although the music on their self-titled debut album is an often fun-filled romp through jazz-spiked Cuban sonnets ["Latin Simone"], Jamaican dub ["Slow Country" and "Dracula"] and punk-rock ["M1A1" and "Punk"] all simmering in a light stock of hip-hop, it all falls slightly short of their awe-inspiring animated site www.gorillaz.com.
Heard as a soundtrack for the site, however, the quirky, futuristic sounds hold up quite well. From their first hit "Clint Eastwood," which features Albarn's catchy drone over a plodding piano and indelible harmonica hook as well as a light, Will Smith-styled rap delivery, to the sushi-and-saki laced hip-hop meets classical music of "Left Hand Suzuki Method" this eclectic, mixed bag becomes twice as much fun when following the animated antics of the Gorillaz quartet - Murdoc, Russel, 2-D and Noodle.
Despite their fresh approach, however, - with broad musical ideas that are all over the place - this pre-fabricated act is musically, like the animated-cum-pop stars before them, actually more about style than substance.