John Hammond - Wicked Grin
(Pointblank Records)
4 stars (out of 5 stars)
Reviewed: May 25, 2001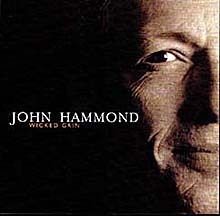 By Tony Bonyata

"Producing someone's record is kind of like spotting someone who is on the trapeze," explains Tom Waits on helping out old friend and blues legend John Hammond on his latest release Wicked Grin - an album which is actually as much Waits' baby as it is Hammond's. Not only did Wait's help out on the boards, but he also lent his guitar, vocals and even all of the compositions for this outing.
While the thought of covering the raw intensity and gritty lyrical content of Waits may seem a daunting task, Hammond pulls it off beautifully as he brushes the hobo-dust off the seat of these number's pants, while still retaining a earthy realness.
On the longing number "Shore Leave" you can almost feel the cool, drizzle of rain through a gray mist as Hammond's low voice bemoans of his emptiness, while he shows a vulnerable side on "Fannin Street," with a sorrowful, frail voice that does all it can to hold back a floodgate of tears. And despite the fact that most of these songs are dark tales of woe and indifference, there are rays of joyfulness on songs such as "Jockey Full of Bourbon," with its lively accordion and congas, the spirited blues-stomp of "16 Shells From a Thirty-Ought Six" and "Big Black Mariah," which features the rich peppering of Charlie Musselwhite's harmonica along with Waits' own twitchy guitar. With a booming voice that sounds like an oncoming train, Hammond's own bluesy style shines through the strongest on "Heartattack and Vine," the introspective "Murder in the Red Barn," "Buzz Fledderjohn," which features a soul-selling slide guitar by Hammond, and the shufflin' "'Till the Money Runs Out."
Surprisingly the most stirring track on the album, "I Know I've Been Changed," isn't actually the blues but a deliciously gospel-drenched number that features handclaps from the pews while Hammond duets with a soulful Waits, who growls like a whiskey-soaked southern preacher.
While Tom Waits' shoes are mighty big freight cars to fill, John Hammond slips into them with ease on Wicked Grin, wearing and tearing a few extra holes in the soles.