Iggy Delivers a Strong Beating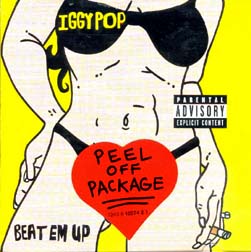 By Holiday Girod

Somebody get a bucket of water, because after a long dry spell from one of rock 'n' roll's true rebels, Iggy Pop is once again on fire.
Just when it seemed that the true godfather of punk traded in his tattered, spit-soaked t-shirt for a cardigan sweater, rocking chair and, God forbid, mellower songs after his last album Avenue B, Iggy jumps back into the hard rocking ring and sucker punches his doubters with his latest release Beat Em Up.
On his 14th solo album Iggy takes the title quite literally, recruiting the bullying talents of brothers Whitey (guitars) and Alex Kirst (drums), along with Mooseman (bass) and Pete Marshall (rhythm guitars).
While Iggy's musical styles have always ebbed and flowed throughout his 32 year rollercoaster career, he's brought it back full circle to a primal sound that is the closest to his groundbreaking work in the early '70s with his prototype punk band The Stooges.
Although the music on Beat Em Up isn't quite as volatile or as violently urgent as his work with the Stooges, it proves to be the heaviest rocking album he's done since 1973's Raw Power. With full frontal metal assaults such as "L.O.S.T.," "Mask," "Ugliness" and the bombastic title song, Iggy keeps on punching without ever noticing if we've still got a pulse. This album rocks so hard, in fact, that when he does slow things down ever so slightly on "Talking Snake," Pop and his hooligans turn what would be a rote power ballad in lesser hands into meaningful metal.
While Stooges purists may cry that he's traded in his punk ethics for a heavy metal I.Q., they should be thankful that at 54 he's not about to lay down and throw in the towel.