Mastica - '99
(First World Music)
3 1/2 stars (out of 5 stars))
Reviewed Jan. 26, 2001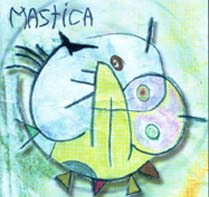 Story by Tony Bonyata

Born from the talents that has propelled bands like King Crimson, Poi Dog Pondering and Mr. Mister comes Mastica, an Austin, Texas-based trio. This eclectic threesome consists of bassist, vocalist and cello player Gum B. (who's previously worked with Poi Dog Pondering, Alejandro Escovedo and "the original god of hellfire" Arthur Brown), guitarist, clarinetist, vocalist and sax player Munkey, along with percussionist Pat Mastelotto (King Crimson, Mr. Mister, Michael Penn and David Sylvian). Miles from the mainstream, the music on their debut album "99" (actually released in 2000) proves to be a quirky, avant garde rock cocktail that becomes an intoxicating, mind-altering experience.
From the tranquilized "4 a.m.," to the infectious number "Queen," complete with Mastelotto's pounding tribal percussions and Munkey's oddly welcome clarinet, Gum B delivers his cool, sensual vocals in a style that falls somewhere between Bryan Ferry and David Sylvian. The dizzying cello that Gum B. weaves in and out of the modern primitive rhythms on the psychedelic, spanish-flavored "Munecos de Palo" make for a legal hallucinogenic. On "Prison," they've sampled the longing angst of a prisoner, from a 1947 Alan Lomax recording, alongside a deep groove in a similar Eno-meets-Moby fashion.
Munkey adds her seductive jazz-tinged saxophone to the moody "Crescent Moon," while her lush vocals float ethereally above the mix on "Seven Marys." Her vocals also add a rare normality on the beautiful "Day Older," a song that comes the closest to latter-day alt-rock. Mastelotto's richly textured percussions help keep the music from straying too far to the left. He provides the glue necessary to keep things in order, but then also acts as a blank canvas for "outside" melodies and exploring instrumentations to attach themselves to. Not fitting neatly into any music category, Mastica's avant garde approach could be just the creative shot-in-the-arm that rock music needs right now.