Nikka's Funky First Course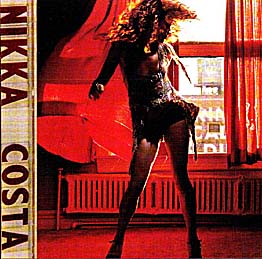 By Tony Bonyata

It's not always easy cracking into the music business, but it doesn't hurt when you've grown up surrounded by the likes of Dinah Washington, Sarah Vaughn, Barbara Streisand, Sly Stone and Frank Sinatra. Throw in a huge commercial push from Tommy Hilfiger using the soundtrack from your debut album for good measure and everything's coming up 'sevens and elevens.'
That's the luck that singer / songwriter Nikka Costa has been dealt. Her father, famed producer / arranger Don Costa would host many musical greats in his home studio throughout her youth. "Looking back it was kind of fabulous," Nikka admits. "All of those interpretations of that old jazz stuff definitely sunk in - down to the phrasing. My family says that even now, I use Dad's chords."
Although she's had lady luck on her side, it wouldn't mean a thing without the inherent talents that run deep in this young, petite red-headed artist. Whatever sunk in throughout her childhood, Costa has chewed it up and spit it back out on her hot new debut Everybody Got Their Something. While the phrasings of old jazz greats may have played a role in her developing style, its the heavy funk influences of Sly Stone and the powerful, impassioned vocals of Tina Turner, Chaka Kahn and even Janis Joplin that make this album such a pleasure.
The album is filled a handful of emotionally charged ballads, such as "Just Because," featuring pianist extraordinaire Billy Preston on clavinet, and the soulful "Push & Pull," along with enough deep funk to make even the stodgiest listener 'get on the good foot.' Numbers such as the infectious "Like A Feather, " the song used in the Hilfiger commercial last summer, the greasy "Hope It Felt Good" and "Some Kind of Beautiful" all feature the nostalgic, moneymaker-shakin' funk that felt so good some thirty years ago when all Sly wanted to do was to take us higher.
And with Christina Aguilera, Lil' Kim, Mya & Pink's updated version of Patti LaBelle's soulful '70s funk number "Lady Marmalade" eating up the charts, Costa's timing on Everybody Got Their Something couldn't be better. Gitchi Gitchi Ya Ya Costa!