Form Before Function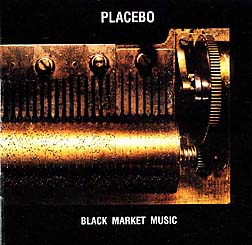 By Tony Bonyata

On Placebo's third release, Black Market Music, the London-based trio have once again created an album that exudes as much glam, glitz and sexual ambiguity as a randy Gary Glitter backstage at a T-Rex concert.
Like it's predecessor - the wonderful Without You I'm Nothing - their latest effort is filled with noisy, guitar-driven glam pop. Lead singer and guitarist Brian Molko's vocals still retain an androgynous, impish quality, but unfortunately, the songs fall slightly short of what they've already proven they're capable of.
While numbers like the organic techno of "Taste in Men, " the poppy, happy-go-lucky chorus of "Special K" and the glam / rap manifesto of "Spite & Malice," featuring vocals from One Inch Punch's Justin Warfield, all still possess a certain sassy, saucy power, they rarely rise to the heights of older songs like "Pure Morning" and "Without You I'm Nothing." Realizing this, the lads have cashed in their chips by adding as a bonus track to the disc a reworked version of "Without You I'm Nothing," with confirmed Placebo fan David Bowie on vocals.
Sadly, even this revisiting of yore with the Thin White One can't make this collection stand to attention. The one surprise, however, is their hypnotic reworking of Depeche Mode's "I Feel Fine," where they actually transcend the original version.
But like any cross-dresser worth his/ her pumps, Molko saves the show by dressing up these lesser numbers with his warbling vocals and bloodthirsty guitar hooks that cut and jab. His guitar-tones are so inspired on this collection, in fact, that it almost makes it worth the price of admission alone.
Hopefully on their next effort, however, Placebo will follow the modernist dictum, 'form follows function' - concentrating their efforts more on the songwriting process, rather than trying to resurrect Ziggy Stardust.