Sullen Happily Defiant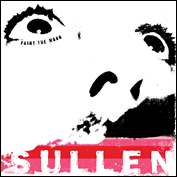 Sullen - Paint the Moon
Thick Records
3 1/2 (out of 5 stars)
Reviewed: June 10, 2003
Review by Tom "Tearaway" Schulte

Sullen's own press release compares the rock trio with vocals split between Shanna Kiels and Justin Slaznik as reminiscent of Goo-era Sonic Youth, ala Thurston Moore and Kim Gordon. This seems really on the mark with the songs the two split vocals on, like "Strawberry Blonde." The band seems to hold back a bit on the intensity of the music when Shanna sings. Shanna sings with a teeth-clenched scream that recalls Kurt Cobain and on songs she leads alone I hear the harder side of Nirvana. At such times, as on "All Fall Down," on the album, I keep expecting the group to break into the repeated chorus of Nirvana's "Sliver." As for when Justin leads the vocal charge, I think he wants to head into "Smells Like Teen Spirit" territory, but remains too hard and punk for all that ("Girls are Gross," "Watch that Girl"). Andy Gerber (Local H, Caviar) recorded in Chicago this promising debut from the St. Louis-area group.


Here's Your Chance to.... Respond!


Your feedback will be featured on
Rant or Rave within 24 hours.