Titan - Elevator
(Virgin Records)
3 1/ 2 stars (out of 5 stars)
Reviewed: Dec. 30, 2000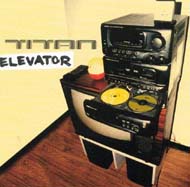 By Tony Bonyata

Take two parts Beastie Boys, one part Beck, a pinch of Dezi Arnez and slather it with a hot, spicy salsa and what you have is Titan (pronounced TEE-tan), a Mexican trio determined to break the preconceptions of what Mexican music is supposed to sound like. Mixing a lo-fi production with modern electronica, hip hop, funk and whatever else they're able to sweep up from the kitchen floor, guitarist Julian Lede, keyboardist Emilo Alevedo and bassist Andres Sanchez could possibly be the first musical act to give Mexican music a fresh new face.
Despite a slow start in their homeland, Titan eventually built up a significant audience who were willing to experiment with the unconventional sounds, at least by Mexican standards, of electronic music.
On their debut full-length album, Elevator, Titan takes cues from their northern influences on the hip hop infused "Corazon," which features a slinky, ultra-funky groove. "King Kong," with its gargantuan bass and swirling electronica, along with "P.E.C.," with a strangling guitar and seizing electronic beeps that jump out of the speakers, sound as if they could have been whipped up by some New York whiz kid D.J. instead of three amigos from Mexico City. But that really shouldn't come as great shock since all three have extensive backgrounds in the "house" music and dance club scenes.
And in the finest of "house" mixmasters traditions, they sample a diverse array of artists into their mix, culling material from Carole King ("Corazon"), The Temptations ("The Future") and even go so far as to pilfer through an old '70s cop show - lifting the theme from "Starsky and Hutch" for their own oiled-up, funk number "C'mon Feel the Noise." Although Titan undoubtedly has been influenced by electronic pioneers from both the States and Europe, their base stock of traditional Mexican music and Latin grooves make for a tasty debut that is guaranteed to make you move.