Mike West - Home
(Binky Records)
3 stars (out of 5 stars)
Reviewed: Jan. 17, 2001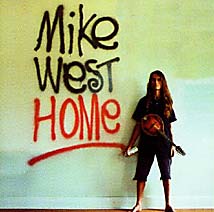 By Tony Bonyata

That banjo pickin' squirrel eatin' storyteller Mike West has just released his latest installment of homespun tales and footshufflin' bluegrass tunes entitled Home. And while it may fall slightly short of his last album 16 Easy Songs for Drill and Banjo, West still manages to weave an impressive tale around numbers that are exuberant, poignant and often bittersweet.
Originally an English native, West has been holed-up down in New Orleans for most of the last decade. As the acoustic house band at Jimmy Buffet's Margaritiville Cafe in the French Quarter, he's won the acclaim of tourists, locals and critics alike.
On Home, West still sings of the odd people and places from southern Louisiana that have found their way into his life. He sings of a preacher and a farmer squaring-off on the raucous reel "You're Gonna Burn," while guilt weighs heavy on an infidel family man on "Elise." He bemoans that dreams and aspirations are not always what they seem, through the eyes of a pot-smoking firefighter on "Stillwater Firefighter." And in the honest tradition of bluegrass music, West takes time to jump on his soapbox to protest the widening of the Mississippi levee, which would leave his neighborhood in construction turmoil, on the fingersnappin' "Corps of Engineers," complete with mandolin, accordion and haunting harmonies from partner Myshkin. "She's got a house full of flowers and nowhere to put them, since she ran out of vases and jars, " he sings on the plaintive number "House Full of Flowers," only to later learn that the foliage surrounding the woman is there as condolences over her recently deceased lover.
And although he sings about the people and events that surround him, the home that he's talking about may not even be discovered yet, as he alludes to in the pensive number "In Mississippi." After getting beat up by New Orleans locals he swears he's going to move to Mississippi where he can "find a little shack, where he can walk anywhere he wants - without watching his back."
Hopefully he can find his peaceful home while still producing thought-provoking tunes like what is found here. But wherever he lays his hat it shouldn't be a problem, because with this engaging singer / songwriter, home will always be where the hick is.

For more info or to purchase Mike West's Home contact, Mike West, P.O. Box 495, Arabi, LA 70032.