Story By Andy Argyrakis
Photos courtesy of Cirque du Soleil

After debuting in Canada and setting up shop in Las Vegas, Cirque du Soleil (French for "Circus of the Sun") has earned quite a reputation for combining a concert atmosphere, theatrical production and IMAX-styled experience all into one explosive evening. Though The Beatles' "Love" has become the company's most lauded production, its latest presentation "Delirium" also covered all those bases and many more, keeping Monday night's United Center crowd on the edge of their seats, while occupying literally every inch from floor to ceiling of the carnivorous venue.

The show first set up Saturday night and closed with this particularly striking performance, but given the positive reaction and the brand name's firm footing, chances are it will be back in the very near future.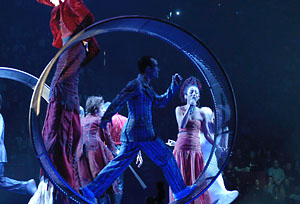 After all, the show literally had something for everyone, starting with the music lover thanks to a percussion filled backing band and several talented soloists. Like any major arena concert, the songs were accompanied by a state of the art live show as singers levitated in the air and appeared on jumbo-tron screens placed at each side of the stage.

But these were only a few components of the highly complex event. The two hour program took on play-like undertones as dancers and actors appeared throughout every song, tracing the story of a man falling asleep and dreaming of several surreal scenes. While the plot ran a little thin and was nowhere near Broadway level, it was still a cohesive theme to follow that often manifested itself in extraordinary ways. Take for instance the scene where this dreamer entered a circus-like setting and watched a ballet dancer twirl six hula-hoops around her body at the same time. Though that would've been a challenging predicament standing absolutely still, she spun her body wildly and held one leg straight up in the air the entire time. Another scene involved four highly sculpted men flexing their muscles and flexibility as they balanced upon one another's heads and shoulders with only two sets of stunt artists' feet touching the ground.

Aside from the music and movement, the environment was also ripe with visuals, such as a segment involving a restless ocean stirring up massive waves that rolled vividly across the screen. Throughout that highly realistic progression, the band played against an aggressive drum beat and dancers twirled with several dizzying stunts. Throughout the entire evening there was never a single lull, with action taking up every square foot of the set at all times. Yet the finale piece provided the most enchanting mix, crossing the popular stepping traditions of "Riverdance" with the instrumental elements of "Stomp." But even with those points of reference, Cirque du Soleil as a whole, along with its new "Delirium" program, remain in a class all by itself.