Story by Andy Argyrakis
Publicity photos

The slick choreography could've easily rivaled "Cats," while the tribal costumes and instrumental music bore similarity to the Broadway version of "The Lion King," but "Cirque Dreams Jungle Fantasy" still housed an acrobatic appeal all its own. From humans dressed as frogs doing back flips to a troupe of lizard contortionists bending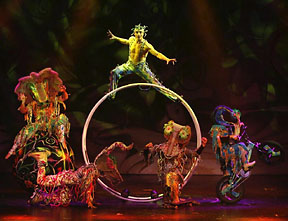 with implausible ease and even a cast of dangerously balanced giraffes, the production combined several classic circus elements with Las Vegas-level showmanship.

Even with that geographic assimilation, the show was actually conceived in New York by Neil Goldberg, known for his extensive work with a spread of stars as diverse as Dick Clark, Diana Ross, Liza Minnelli and Gloria Estefan. Given his extensive musical background, the two act, two hour show captured shades of the aforementioned shows, but was set in a world all its own where animals sprung to life in unimaginable positions throughout a world of vibrantly shifting colors and costumes (that numbered well over 150).

Admittedly the plot was severely thin, basically serving as an audience portal into a fictional wonder world where dreams come to life. But no matter how general and almost child-like the premise seemed, there was no denying the awe-striking stunts that permeated the performance. The "Jungle Jumpin'" segment featured intertwining jump ropes and a cast of bee-adorned tumblers weaving feverishly in and out of complicated patterns.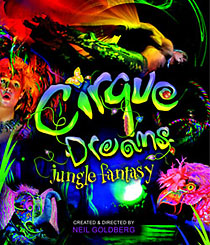 A few moments later, the "Froggling" skit raised the bar to an even more skillful level, where a juggler bounced and tossed six balls concurrently on an elevated platform. Speaking of raised surfaces, the scene "Natures Balance" was a graceful display of four female cast members with the utmost flexibility, even to the point of putting their feet completely over their own heads. Though a male cast of jungle kings were less fluid in their movements during "Roar," they demonstrated incredible strength standing on one another's shoulders and ending as a completely vertical three person pyramid.

All the while, the athletic prowess was backed by a mixture of a live violin player and vocalist, plus hypnotic backing tracks that merged moody forest sounds with techno beats. The latter format was particularly magnetic, mirroring the sounds of Delirium, Underworld and even The Chemical Brothers throughout the most intense moments. As a result of the varied entertainment angles, "Cirque Dreams Jungle Fantasy" truly staged something for everyone, while simultaneously striking every sense.