Review and photos by Frances Sealy

Bruce Cockburn is not a stranger to Tucson or Arizona for that matter as he has been touring in The Grand Canyon State since the 1970s. His home country of Canada came to the realization that he was a national treasure early in his career. He has earned many awards and accolades from his homeland that range from 13 Juno awards to the Governor General's Performing Arts Award for Lifetime Artistic Achievement. Cockburn has written over 300 songs and released 30 albums. It is very a special occasion indeed when he comes to town.

The tour is supporting Cockburn's newest album, Bone On Bone. He had gone on hiatus from writing songs for six years as he had to write his spiritual memoir, Rumours of Glory: A Memoir. Once that important and very personal task was done, he resumed songwriting.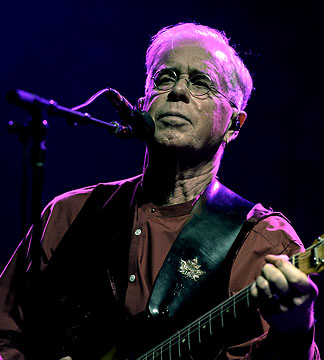 Cockburn quietly took the stage, picked up his 12-string steel electric guitar, and started performing the first song of the first set, "Tokyo." That immediately led into "Lovers In a Dangerous Time." It was quickly apparent that the crowd was filled with long time faithful fans that didn't wait very long to shout out comments and requests. Cockburn was 'at home.'

The sets were filled with old and new songs. The songs from Bone On Bone blended seamlessly with more familiar tunes like "If I Had a Rocket Launcher," "The Coldest Night of the Year," and "If a Tree Falls." Cockburn's vocals were stellar, often gritty yet soft at times. He brought out his steel-bodied Dobro resonator guitar for "Mon Chemin." Otherwise, he played his acoustic and electric guitars like the virtuoso that he is. As he brought out his ukulele there was some serious applause from the fans and Cockburn seemed to be surprised at the reaction.

Cockburn mentioned that he is having a lot of fun performing with his present touring band. The band seemed to have the perfect synergy with the artist. The band consisted of Gary Craig on drums, John Dymond on bass and background vocals, and his nephew John Aaron Cockburn on accordion, violin, guitar and background vocals.

Cockburn started writing songs that were motivated by living in troubled times in the early days of his career. He has used his talent over the years to support worthy causes in the world. His activism has touched on the subjects of the environment, politics, the welfare of indigenous people, and land mines. Unlike his peer, Bob Dylan, Cockburn is a much better musician and singer. Like Dylan, he writes songs that are as powerful. We live in times that are more troubled than ever. Hopefully, Cockburn will be motivated to continue to write and serve a world that is still in need of his activism.
Set List:
1. Tokyo
2. Lovers in a Dangerous Time
3. States I'm In
4. Forty Years in the Wilderness
5. Free to Be
6. Cafe Society
7. Peggy's Kitchen Wall
8. If I Had a Rocket Launcher
9. Strange Waters
10. Bone on Bone

10. Bone on Bone
11. Mon Chemin
12. The Coldest Night of the Year
13. Jesus Train
14. Wondering Where the Lions Are
15. False River
16. If a Tree Falls
17. The Gift

Encore:
18. Look How Far
19. 3 Al Purdys
20. Stolen Land