Destiny's Child
Marcus Amphitheater
Milwaukee, WI
July 2, 2001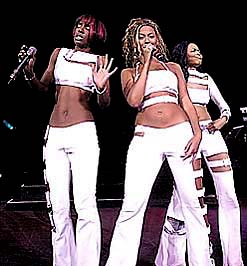 The girls lookin' good!
Story and Photos by Terry Mayer


Destiny's Child, the trio of curvaceous cuties, came to the Marcus Amphitheater Monday night to the delight of their many shrieking fans. Beyonce Knowles, Kelly Rowland, and Michelle Williams comprise Destiny's Child. The voluptuous vocal trio entered the stage Vegas style with legs flashin' and the modern disco beats blastin'.
Wasting no time they charged into "Independent Woman" from the "Charlie's Angles" soundtrack. Fun and funky, the girls' soulful voices came off like hot molasses dripping off toast. Then segueyed into "So Good," a fuzzy computerized pop R&B tune. "No, No, No" left the girls caressing their bodies which made many focus on their hands and not the music, if only for a little while. The soon-to-be pop divas weaved their dance routine from one end of the stage to the other keeping in perfect harmony. "Say My Name," had forgettable pop appeal but the teens in the audience didn't care. They don't understand why rock critics bash the music that they totally relate too. Melding into the gospel medley "Jumpin, Jumpin" which found the trios voices as angelic as ever and ended with their latest hit - the bouncy "Survivor."
Destiny's Childs' beauty is in their great vocal harmonies, choreography and yes, beautiful physiques. Each members' singing is truly amazing, but when you combine all three you get a canvas which paints itself into a complete harmonic masterpiece that is simply unsurpassed.