Eagles Ballroom
Milwaukee
November 12, 1997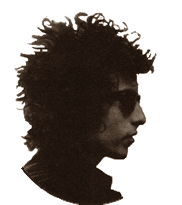 Story by Tony Bonyata


Clad in a western-tailored black suit, bow tie and matted down hair, 56 year-old rock deity Bob Dylan took to the stage of the Eagles Ballroom last Wednesday night to perform a rousing, mostly electric, introspective set that dug deep into his 35 year back catalog of material, which included a good mix of new songs from his brilliant return-to-form album Time Out Of Mind, as well as old familiar hits and a few more obscure songs for his die-hard fans.
Once a spokesman of the sixties generation, with his sarcastic, politically laced songs that demanded change, Dylan has made a few musical changes himself throughout his career. From Greenwich Village singer / songwriter / poet, electric rocker, country and western crooner, born-again rock spiritualist to a rock legend that unfortunately hasn't had too much to say in the last fifteen years, Dylan, nonetheless, showed the eager Milwaukee crowd, who ranged in ages from 15 to 50, that he still had a thing or two up his sleeve.
Bathed in blue light and looking somewhat rigid, Dylan opened up, along with a tight four-piece band, with "Maggie's Farm" (from his 1965 album Bringing It All Back Home). With a distinct nasally, sand-and-glue voice that people either find grating or hypnotizing, Dylan's voice that night was much more smooth and direct than on previous tours.
While he did perform a few very well known hits such as an acoustic send-up of "Tangled Up In Blue", "Like A Rolling Stone" and the voltage-drunk "Rainy Day Women # 12 & 35", it was the lesser known songs such as "Man In The Long Black Coat" (from the 1989 album Oh Mercy), "Blind Willie McTell" and the fun 1963 number, "Don't Think Twice, It's Alright" that gave this show it's real character.
The true highlights of the evening were the soaring, electrified signature tune, "Highway 61 Revisited", as well as, surprisingly enough, the four songs from his latest album, "Cold Irons Bound", "Can't Wait", "Til I Fell In Love With You" and "Lovesick".
While this tour is to promote Time Out Of Mind, a raw, stark masterpiece which focuses on lost love and redemption (and arguably his best work since his 1975 album Blood On The Tracks), the only real disappointment was his lack of performing more from it. Songs such as the gut-bucket Delta- blues inspired "Dirt Road Blues", "Million Miles" with it's loose, jazzy swing and the strong revisiting of "Knockin'On Heaven's Door" on "Tryin'To Get To Heaven" would have made welcome additions to this already strong performance.
With newfound audiences such as Pope John Paul, who he recently performed for, and President Clinton, who he will be performing for next month at the Kennedy Center, it seems that Dylan has transcended his own rock icon status even further. It's nice to know, however, that his recent music and rejuvenated voice sounds as if he's again singing to the coffee-house-scene nobodies that first adopted him 35 years ago.