Techno Jubilee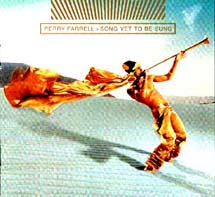 By Tony Bonyata

Perry Farrell, lead vocalist for the seminal late '80s alt-rock band Jane's Addiction, as well as Porno For Pyros' frontman and visionary brainchild behind the Lollapalooza Festival, has just released his first solo album, Song Yet To Be Sung, a collection that finds him searching for a new musical terrain to pitch his tent on.
While the world of electronica and techno are far from new, with a wealth of artists - old school and new - dipping their toes in the glowing pool of swirling keys and percolating synthetic rhythms, it's a strange new world for Farrell.
Although the rocking core of Jane's is nowhere to be found here, despite the fact that one-time guitarist Dave Navarro and drummer Stephen Perkins both make cameos, Farrell's vocals still evoke a hauntingly familiar psychedelic sensuality; lending a warm, organic feel to something, otherwise, hard and cold.
Avoiding the obvious by skirting around hard rocking numbers, Farrell adds an interesting edge to the album with the pounding drum-n-bass that permeates throughout the celebratory opening track, "Happy Birthday Jubilee" and slackjawed guitar line and skittish beats on "Did You Forget."
Most of Song Yet To Be Sung has, in fact, more of an ethereal, spiritually uplifting feel to it. Swirling harmonies surround Farrell's earnest vocals over a mechanical Kraftwerkian beat on "Our Song," leading into the quirky robotic pop of "Say Something." A lilting melody strangely roots itself deep into the metal soundscapes on "Seed." A bouncy dub reggae rhythm invokes a smile on "To Me," while synthetic horns and Indian strings add an otherworldliness to "Nua Nua."
Although he'll soon be regrouping with Jane's Addiction later this year for a tour and possibly a new album, for now we can dance to Farrell's' festive techno jubilee.