Stripped-down Frampton delights the faithful
Peter Frampton
The Fox Theatre
Tucson, AZ
March 9, 2016
Review and photos by Mary Andrews

Peter Frampton provided as intimate and personal a show as possible. The stage was set like his own informal living room with a retro façade displaying two old floor lamps, a throw rug, an end table with a retro telephone, a floor length radio, and a couple of chairs. Imagine that your friend has invited you over to participate in an evening of a guitar pull and trading songs. The friend, Peter Frampton, entered stage left and he turned on one of the lamps, thumbed through channels on the radio, before having a seat. He picked up the guitar and started playing "All I Wanna Be." The enraptured fans finished the last word of the song. This started 2 1/2 hours of Peter Frampton bliss!

Frampton admitted that 7000 watts of amplification has been a security blanket for him in the past. He decided to take a chance and remove that comfort zone. This was the birth of his Peter Frampton "Raw" tour. The tour is on the heels of Frampton's new album, Acoustic Classics.

Peter shared many stories between the songs that spanned his long career. He was lucky enough to have a friendship with the late George Harrison and spent a lot of time with George on his estate in England. "Wind of Change" was inspired by a tune he 'stole' from George. "Peggy Sue" (Buddy Holly cover) was the first song he ever played in public. He spoke of how he acquired Buddy Holly's "Peggy Sue" guitar from the Buddy Holly Foundation. "It was supposed to go to Paul McCartney, but they could not get ahold of him. So, I got it." It seems he occasionally gets Paul McCartney's name come across his caller ID and he won't take the call. Peter knows what he wants and he's not getting it! He followed the story with his rendition of "Peggy Sue."

After the first five songs in the set, Gordon Kennedy entered the set, turned on the second floor lamp, sat down, and accompanied Mr. Frampton for the rest on the set on acoustic guitar. Gordon is an accomplished Grammy winning songwriter. They performed Gordon's song, "Change the World" later in the set.

The set was filled with many musical gems including Beatles' covers and another Buddy Holly song. The highlights were Frampton's own hits from the past. There was no "talk Box" since this was acoustic. However, Peter recruited the audience to be the talk box during "Show Me The Way." "It's only slightly humiliating to do it so, I will join you so you won't feel left out. It will happen in places you least expect it, so be ready." The crowd was only too willing to oblige. The guitar picking was impeccable and precise by both Frampton and Kennedy during the set. The sound and the acoustics at the Fox Theatre were crystal clear.

Julian Frampton joined the twosome later in the set to play keyboards for a couple of songs. Young Frampton and Ben Sheridan had opened the show with a 30-minute set of self-penned songs and a cover of "Hey Bulldog" and "Landslide." Looking forward to hear more from Julian Frampton!

This was a fabulous evening spent with a 'friend' Peter Frampton in a very intimate setting. My first Peter Frampton concert was in 1978 and much later with his "Guitar Circus" two years ago. This show was the best by far!
Selist:
1. All I Wanna Be (Is by Your Side)
2. Wind of Change
3. Peggy Sue (Buddy Holly cover)
4. Just the Time of Year
5. Penny for Your Thoughts
6. Show Me the Way (with Gordon Kennedy)
7. Lines on My Face
8. Hummingbird in a Box
9. Heart to My Chest
10. Norwegian Wood (This Bird Has Flown)
(The Beatles cover)
11. Oh for Another Day
12. You Can Be Sure
13. Not Forgotten
14. Take Me Back
15. Road to the Sun
16. Heartbeat
(Buddy Holly cover)
17. Change the World (Eric Clapton cover)
18. Baby I Love Your Way
19. Do You Feel Like We Do

Encore:
20. You Had to Be There
21. I'm In You
Related articles:
Peter Frampton's Guitar Circus - Concert review - Tucson, AZ August 2014
Peter Frampton - Concert review - Williams Bay, WI - August 2010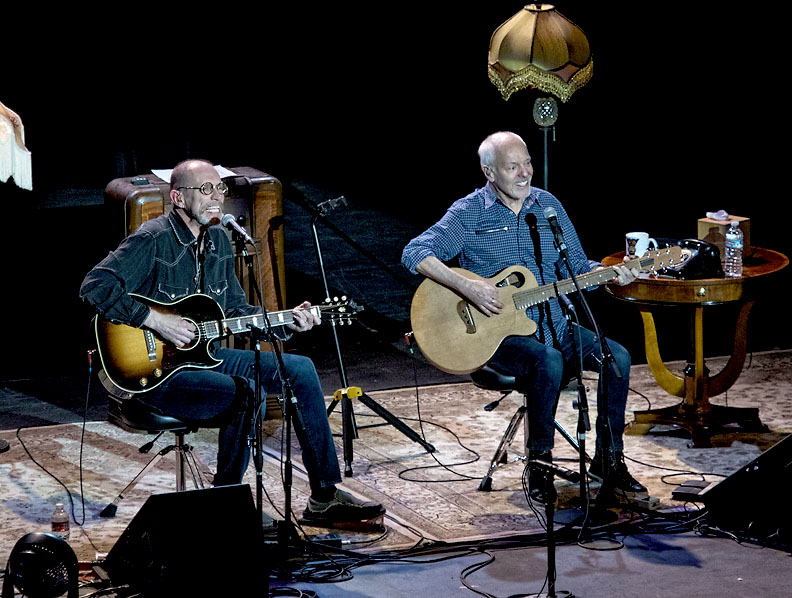 Gordon Kennedy & Peter Frampton
| | |
| --- | --- |
| Julian Frampton | |
| | |
| --- | --- |
| Julian Frampton | |
Return to Reviews
Return to Livewire
Copyright © ConcertLivewire.com™ All Rights Reserved