Metro, Chicago
October 28, 1999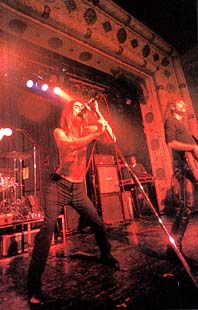 Story by Tony Bonyata
Photos by Phil Bonyata

On his 16th and latest album, Avenue B, abrasive hard-rock pioneer and punk godfather Iggy Pop sounds like a man ready to finally settle down as he comes to terms with his entry into middle-age. His most introspective work to date, Avenue B is an album filled with spoken word pieces and stripped down, yet still direct and graphic numbers that finds Iggy (aka James Osterberg) reflecting on lost love - from his recent divorce, getting old and the need to fill out his days living a simple and honest life (simple and honest at least for a man who used to smear himself with peanut butter and carve his chest with broken glass onstage).
Although the album would indicate a move towards a kinder, gentler Iggy, his explosive performance at the Metro in Chicago last Thursday night proved anything but a man ready to grow old gracefully.
At 52 years old the sinewy and shirtless Pop, with long brown hair, washboard stomach and clad only in a pair of black, skin-tight hip-hugging trousers, sat at the front of the stage with an acoustic guitar to perform "No S**t" and "Nazi Girlfriend", two of the more reflective numbers from his new album. Although it seemed a little out of place to open with these softer songs it didn't take long for Iggy and touring band, Whitey Kirst and Pete Marshall (guitars), Hal Craigen (bass) and Larry Mullins (drums), to light the fuse on a powder-keg of lethal rock numbers. "Espanol", a slice of heavy thrash from Avenue B came off much stronger live than on record. Two signature tunes from his seminal pre-punk / metal band The Stooges worked the sold-out house into a throbbing frenzy - "Raw Power", with its industrial clanking and Iggy jumping and flailing in epileptic proportions, and "Search and Destroy" an apocalyptic number with scathing guitars and foundation-crumbling rhythms, which was also used last year in a Nike commercial.
Of the 20 songs performed over a third of the show was new material from Avenue B , the rest was a welcome mix of older gems that showcased why Iggy may be the most influential artist ever to elude the mainstream. The band ripped into a toxic blitzkrieg of other Stooges classics such as "T.V. Eye", "No Fun" and "I Wanna Be Your Dog", where Iggy ran from side to side of the stage like a madman throwing a mic stand over his shoulder and knocking an amplifier into the audience as the band chugged over a Chinese-torture piano line. Two other highlights of the evening were from his 1970s collaborations with David Bowie - "Lust For Life", recently used in the soundtrack from the film "Trainspotting", and "The Passenger", where after inviting the audience to dance with him, thirty to forty 30 to 40-somethings promptly leapt on the stage and moshed and pogoed with the Ig. He also revisited his early 80's hit "Real Wild Child", only this time it was transformed into an amphetamine-driven number with more combustible energy than ComEd.
His final two numbers were old covers - a roughed-up version of "Louie Louie", a classic that he's performed live since his early days with The Stooges and was also included on his 1994 album American Caesar, and Chuck Berry's "Johnny B. Goode". Although the previous number could be forgiven for sheer historical value tied to The Stooges, his inclusion of the rudimentary "Johnny B. Goode" took up valuable show time that could have been better utilized on a wealth of his own songs not performed that evening, such as "Five Foot One", "I'm Bored","Candy" or any number from his 1977 masterpiece The Idiot. These minor flaws however didn't interfere with Iggy's spell-binding and age-defying performance that evening.
Even though he may now sound like a man succumbing to middle age on record, in concert Iggy Pop still wants nothing more than to be our dog.