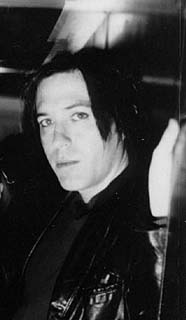 Interview with A Perfect Circle's Troy Van Leeuwen
Mar. 14, 2001
With their meteoric rise to the top, A Perfect Circle seems to have achieved the impossible overnight. Their recent album Mer de Noms is the highest charting debut album from a rock band in Billboard's history, landing at the number 4 spot the week it was released. They've garnered critical acclaim for both their album and live performances and more recently were the first U.S. band to have their album go platinum in China.
With all of their music written and produced by guitarist Billy Howerdel (who has also worked with Nine Inch Nails, Tool, David Bowie and The Smashing Pumpkins, among others) and fueled by Tool's vocalist Maynard James Keenan, A Perfect Circle seems unstoppable. But even though their record company claims that they're not a side project, Maynard's recent work on his new Tool album, with a full-blown tour to undoubtedly follow, may prove a conflict of interest with this band.
ConcertLivewire's Tony Bonyata tracked down A Perfect Circle's guitarist Troy Van Leeuwen in the midst of their successful U.S. winter tour to find out what makes them tick (and if Maynard's shifting priorities ticks anyone off.)

Livewire: First of all, I'd like to say congratulations on a hugely successful year.

Troy: Well, thank you.

Livewire: What do attribute the explosive success of A Perfect Circle to?

Troy: My absolutely wonderful hair.

Livewire: And what are you sporting now, the long jet black...

Troy: No, it's got a couple of red streaks in it this time, see. That's the extra special touch there. But in all seriousness, I guess... I don't know what to say. You caught me off guard with that one.

Livewire: It seems that you've achieved so much for a debut album. Were you guys shocked by the instant success?

Troy: Yeah, the instant success definitely took us all by surprise.

Livewire: I understand that Billy originally wanted a female vocalist for the band, but Maynard really wanted in. Do you think that without the Tool fan-base that accompanied Maynard, you'd be where you are now?

Troy: There's no way it would be the same, you know? I don't think so, but that's just my personal opinion. I know that the material would be just as good and it'd be just as interesting, but I think it was because of the anticipation for the next Tool record. I'd be lying to myself if I didn't think that had something to do with it.

Livewire: But it seems that you guys have taken it much further than that. That may have been the initial interest but...

Troy: Yeah, that was the initial, sort of, jump.

Livewire: So what is it - a part-time side project for all of you, or a bona fide full-time band, with most of you juggling two or more acts?

Troy: Well, it's hard to say, I know that while were doing it and while there's touring to do and records to be made, everybody puts their all into it. But I'm not sure that I'm going to be able to put my all into it while Maynard is doing Tool. You know what I mean? It's sort of a thing that happens for the moment that it's available to be seized. We had the moment, and we seized it. Now it's Tool's moment, which I completely understand needs to happen. I'm fully behind what he does with Tool.

Livewire: So Tool has a new album in the works?

Troy: Yeah.

Livewire: Is there a release date set?

Troy: It's all tentative. I keep hearing different things, so it's hard to say.

Livewire: Your album Mer de Noms was chosen by many major publications as one of the top ten albums of 2000, including our own website ConcertLivewire. How do you feel it ranks?

Troy: I'd have to say, with an objective point of view as I possibly can have, I'm really glad that we're even up there. There were a few records in 2000 that I really liked, but very few.

Livewire: Any albums from 2000 you'd personally take over it?

Troy: Well, one of the records that I still listen to quite a bit is The Queens of the Stone Age "Rated R." That's a great sounding record. It's got a great vibe and some cool songs. There's a lot of bands who try and make ten radio singles and slap them on the record and then you get two songs out of it - the rest of it you're bored with already. With us we had "Judith,' which is an obvious hit and "3 Libras" but then the rest of it are songs that are just real. They just came out the way they are. They're not structured in a pop way or anything like that. The P.J. Harvey record is just phenomenal. She's got Mick Harvey from Nick Cave's band. And one more person, Joseph Arthur. His record is very good too.

Livewire: What was the band's reaction when you realized you were the first U.S. rock band to go platinum in China?

Troy: That was a trip! I never thought I'd be selling records to China, you know?

Livewire: So what did you do, all go out for a collective plate of Lung Fung Kow then?

Troy: You know, that's funny because we've been having chinese food the last two nights in a row, so maybe in a round about way...

Livewire: Is there any country that seems to have more rabid Circle fans than others?

Troy: I keep saying that it's a toss up. When we went to Australia, we hit them right when things were starting to fire up. They were definitely pretty rabid. But a different rabid than American audiences. I saw a rabid American audience the other night when I went to see Pantera. I've never seen Pantera before and just wanted to check them out.

Livewire: It's pretty wild.

Troy: That's what I'm saying. I had to witness their live show. And that was a rabid American audience that were just completely beating the shit out of each other. I'm not saying it's good. Australia were rabid in the fact that they were paying attention to the band. The energy was going between the band and the people, where Pantera the energy seemed like it was, at least from the crowd's perspective, to just beat each other up (laughs). I don't even think that they were looking at the band. The band was like this dictator that was telling them to kill each other or something, I don't know (laughs.) It was just strange.

Livewire: From the few times that I've seen them, I can tell you that the majority of the audience is blowing a .18 and shit-faced.

Troy: Yeah, it's a bunch of guys, like frat boys and jobless punk-ass drunks.

Livewire: I see that the majority of the shows from your winter tour are selling out. Have you noticed a difference in your audience since your tour last year?

Troy: No, there's just definitely different pockets that are a little more mellow than others. But we did hit a lot of places that we didn't last time, so we're getting the same excitement, I think.

Livewire: You're playing Milwaukee on this leg, for instance.

Troy: Yeah.

Livewire: Are you previewing any new material on this tour?

Troy: No, we're not doing any new material. We kind of evolved some of the existing material, however, and we've added a couple of covers. With Maynard starting the recording of his Tool record, he didn't have a chance to really finish anything else as far as any new Perfect Circle [material.] But we do a couple of different versions of songs, along with the covers.

Livewire: I understand that one of those covers is Bowie's "Ashes to Ashes."

Troy: That's right, yeah.

Livewire: What lead you to cover this song?

Troy: Well, on the last tour we were doing this sort of medley of The Cure's "Love Song" and Ozzy Osbourne's "Diary of a Madman."

Livewire: Nice coupling!

Troy: Yeah, it was very interesting. But you know what, we haven't done it at all this tour and I don't even know why.

Livewire: You can always save it for Milwaukee.

Troy: Maybe we will. We'll see if we can arrange that for you. But we wanted a backup song and it just sort of happened easily [adding "Ashes to Ashes."] It just seemed right. We were going through all these different possibilities, and we were actually going to do this P.J. Harvey song, but Billy was really yearning to do something that wasn't so damn obscure that nobody would know what the heck it is.

Livewire: But considering the average age of your crowd, I'm sure it actually IS obscure to the majority of them.

Troy: Yeah, that's true.

Livewire: Are there any tentative plans for a follow-up album?

Troy: It's a little early. I've heard a couple of songs that Billy has been kicking around, that we'll sometimes break out at soundcheck or something. But it's really going to depend on Maynard, you know. I'm going to do another band when I go home.

Livewire: Is that the Enemy project?

Troy: Yeah, it is.

Livewire: Have you guys released anything yet?

Troy: No. no. With this whole last year [with A Perfect Circle] I had to put it on the back burner. I'm kind of fixing up some material now so when I get home I can do it up right. And then I'll probably tour with that as well.

Livewire: How does that music differ from what you're doing in A Perfect Circle?

Troy: Well, it's definitely more in the pop vein, I would say. The songs really burn from the first second. With A Perfect Circle there's a kind of warming up to the songs. With Enemy the guys come from the New York hardcore scene, so it's a different energy. I wouldn't say in-your-face, just more direct - more straightforward. But it's a different energy, definitely.

Livewire: Do you do most of the songwriting for Enemy or is it somebody else?

Troy: Yeah, I do the majority of it and also sing and play guitar.

Livewire: Do you help with the background vocals for A Perfect Circle?

Troy: I do yes. I didn't on the record but live I have to because there's things that Billy's doing and it's kind of difficult for him to sing.

Livewire: I see you've written some songs for the band Orgy, as well.

Troy: Yeah, I co-wrote songs on both of their records. There's the first song on the first record and actually a couple of songs on their second record, but you know what's funny, I haven't even seen them at all since I've been on this tour. And I haven't even gotten a copy of that record yet (laughs.) I can't even remember the titles - they were all working titles back then.
The guy that I usually work with, at least before A Perfect Circle, his name is Josh Abraham, he's their producer. Every project that's he's done in the last year or two I've a hand in on either playing on or engineering or ProTools editing or programming. There's a whole slew of records that are out now that I've got my fingers in.

Livewire: Do you think that you'll get the opportunity to contribute to the songwriting process for A Perfect Circle's next album - or is that strictly Billy's bag?

Troy: Well, that's something that has to be determined, I think. It's hard to say, you know? I would hope so. But there's so much material that Billy already has and I do like what he does. I think that it doesn't need too much tweaking.

Livewire: And as long as you've got your side things going...

Troy: Yeah, that's the cool thing about it. There's not that power struggle at all. But actually getting in there and writing might be interesting, so we'll see.

Livewire: Is there anything else up your sleeve for the remainder of this tour?

Troy: Not intentionally, no (laughs) We've only got a few more weeks left.

Livewire: Is headlining your own shows any less wild then with the Nine Inch Nails entourage of last year?

Troy: The only reason it would be more wild with Nine Inch Nails is that we all know them and when you get more people together there's more chances of mayhem. We just enjoy our own shows way more. There's the trade off there. It's definitely better to do your own show, you know? I really enjoy it.

Livewire: It seems that you've built such an immense fan base throughout the world already that it may even overshadow Tool to a degree.

Troy: We'll see, but I don't know, I've heard a little bit of the [new] Tool record and I have to say I'm impressed. Both of these projects for Maynard are going to be scratching each other's backs. Even though it might not seem that way. He'll get a good run with Tool, I'm sure.

Livewire: Now that A Perfect Circle is so huge, is Billy handling this whole Maynard / Tool thing okay?

Troy: Yeah, of course there's drawbacks to it. But as we started this conversation, part of the reason that A Perfect Circle got the jump and thrust that it did was because of that very thing, you know? It's kind of funny that you didn't even bring up the comparison thing - which is such bullshit. Just about every press that we've done always asks, "What do you think about the comparison between Tool and A Perfect Circle?"

Livewire: But they're two completely different bands, with only one common denominator - Maynard. All you have to do is listen.

Troy: But it's funny that you didn't mention it, which I appreciate, nonetheless. But that's the big thing. There's this confusion that there'd be some type of comparison, when there's completely different members and people and sound.

Livewire: Is there a long term plan for A Perfect Circle, or are you taking this like a recovering alcoholic - one day at time?

Troy: (Laughs) One day at a time, definitely.


More A Perfect Circle
CD Review - Mer de Noms
Livewire
Interviews