House of Blues
Chicago
January 23, 2000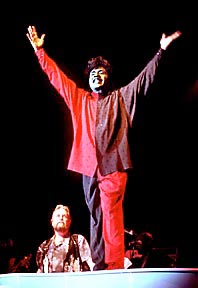 Little Richard victoriously
astride his piano
Story by Tony Bonyata
Photos by Phil Bonyata

John Lennon once said that when he first heard Little Richard he sounded so great he couldn't speak. Jimi Hendrix claimed he wanted to do with his guitar what Richard did with his voice, while both Otis Redding and David Bowie started their musical careers because of his inspiration. Even his contemporaries, who helped shape an infant music form known as rock and roll in the mid-'50s, such as Elvis Presley ("Little Richard is the greatest"), Chuck Berry ("He is a great originator...a thrilling performer") and James Brown ("Little Richard is my idol") all were influenced by his flamboyant personality, wild performances that oozed with sexual urgency and raucous style of R&B blessed with pinch of gospel.
Born and raised in Macon, Georgia Richard Penniman began his singing career in a local church choir. After winning a talent contest he recorded 2 singles with RCA, neither of which made a splash. He returned to washing dishes at a Greyhound bus station before submitting a demo of "Tutti Frutti" to Specialty Records. He was immediately signed and proceeded a prolific run of successful singles for the label. In 1957 he made a drastic about face and renounced his music and excessive lifestyle and immersed himself deep in religion. When he decided to make a comeback in 1964 his style of music had become passe with a younger generation and he was relegated to the oldies circuit. Over the last two decades, however, his incessant touring as well as spots in movies, television appearances, commercials and soundtracks has kept his legacy largely intact.
Considering what he's done for the face of rock music it didn't seem at all out of place last Sunday when Dan Aykroyd (Saturday Night Live, The Blues Brothers) stepped out on the stage of the House of Blues, a great Chicago music club co-owned by Aykroyd whose bookings are as eclectic as their colorful Southern folk art decor, and announced the arrival of "the chancellor, the innovator, the emancipator and architect of rock-n-roll. Little Richard!"
After the 9-piece band, hailing primarily from Mississippi and Alabama, worked the crowd into a lather with a stomping R&B instrumental, Richard, with long black locks, which draped over his back like an undersized cape, and clad in loose fitting sequined trimmed gold shirt and trousers and high-heeled sequined boots, walked out to a crowd that was, for the most part, either not yet born or too young to remember him when he known as "the wild man of rock and roll". He was helped onto the top on his white baby grand piano and stood atop with arms outstretched and bowing to the audience before sitting behind the ivories and pounding out a rocking, honky tonk-styled piano on "Good Golly Miss Molly" amid his trademark shrill screams that, at 67 years-old, still bite.
Richard ran through other golden oldies from his glory days such as "Lucille" with a tight, irresistible horn section, "All Around The World", "Tutti Frutti" and "Jenny Jenny", in which Aykroyd joined Richard on vocals as he fell into his Elwood Blues 'shuckin' and jivin' dance moves. Interjecting his own entertaining brand of humor in between numbers, Richard insisted, "I'm just a young Jewish boy trying do it right", before settling into a rollicking version of Fats Domino's "Blueberry Hill" which showcased his penchant for New Orleans flavored R&B piano rolls.
While his performance exuded the air of a legend in the house, Richard's easy going demeanor and bright toothy grin along with his homespun humor and reflective stories made for an intimate setting. "Now don't make me scream like a white woman!" he cried when the sound from his piano was briefly cut. When discussing the nonsensical banter featured in "Tutti Frutti" he explained, "I was a dishwasher in Macon, Georgia when I made this song. I was just washin' dishes with another boy and out it came 'Awop-bop-a-loo-mop-alop-bam-boom!'. I didn't know what it meant," he laughed, "but out it came."
The rest of the show was filled with a good number of covers such as "Bony Moronie", The Beatles "I Saw Her Standing There", "Goodnight Irene", Jimmy Reed's "Baby What You Want Me Do", as well as Hank Williams' "Jambalaya", which found Richard fais-do-dos-ing across the stage to the country beat as he shook hands and signed a few autographs. On Bob Seger's "Old Time Rock and Roll" and Chuck Berry's "Rock and Roll Music" Richard invited a few dozen audience members onto the stage for a sock-hop for the new century.
Although his songs may seem like dated oldies to a younger generation of rock fans, this Georgia Peach gave a lucky house in Chicago a sweet taste of where rock and roll originally came from.