Matchbox Twenty creates quite the buzz
Matchbox Twenty
AVA Amphitheatre
Tucson, AZ
August 3, 2017
Review and photos by Frances Sealy

Matchbox Twenty's present tour marks the twentieth anniversary since the band released their first album, Yourself or Someone Like You. The band separated from their present tour with Counting Crows to make a stop in Tucson. Little did they know what was going to happen with this particular show. The gates at AVA Amphitheater opened over two hours late. The fans were lined up outside the venue at first unaware of what the problem was. It could be summed up in one word, bees. Arizona is probably the only state in the country that does not have a diminishing number of bees.

This was a swarm of some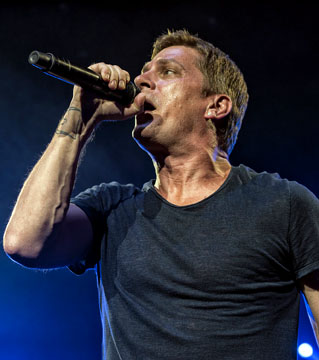 2,000 bees that decided to nest in one of the venues large speakers for the night. African killer bees have caused quite a stir in the city with a couple of deaths over the last week. Legally the venue could not allow patrons inside until the bees were gone. An exterminator arrived and took care of the problem so the show could go on. The show was well worth the wait.

The happenings before the show definitely had left an impression on Matchbox Twenty's front man, Rob Thomas. The show started energetic versions of "Real World," "Girl Like That," and "She's So Mean." Thomas expressed his appreciation for the fans' patience in waiting to enter the venue. Joking, he said, "You guys have a giant beetle here that looks like a fucking drone with red eyes. We didn't know this was going to happen because of . . . bees. You guys have some stuff here that is scary. These weren't honeybees. We love honeybees. These were African Killer bees. They have switchblades. We apologize and thank you so much for sticking around. We are going to play as many songs as we possibly can."

The band gave the fans everything they could to makeup for the delay. Rob Thomas on lead vocals and rhythm guitar gave a powerful yet seductive performance even though the set list had to be trimmed a little bit to meet curfew demands. Kyle Cook on lead guitar and backing vocals had as much energy and showmanship as Rob. The same can be said about Brian Yale on bass. Paul Doucette on drums, rhythm guitar, and backing vocals kept things on time. Matt Beck added rhythm guitar and keyboards to the fiery mix. There was a lot of movement on the stage by the band and everyone seemed to encourage the fans to join in the fun. The fans showed their appreciation in return by dancing and singing along with every song.

The band gave unbridled versions of their hit songs like "3 a.m.," "Disease," "Unwell, "and "If You're Gone." There were a total of 19 songs even with the songs omitted. There is never a dull moment in Tucson.
Set List:
1. Real World
2. Girl Like That
3. She's So Mean
4. Bent
5. All I Need
6. If You're Gone
7. How Far We've Come
8. Disease
9. Mad Season


10. So Sad So Lonely
11. English Town
12. Hang
13. Unwell
14. Back 2 Good
15. Push

Encore:
16. 3 A.M.
17. Long Day
18. Bright Lights

Related articles:
Rob Thomas - Concert review - Chicago, IL April 2005
Matchbox Twenty / Everclear - Concert review - Milwaukee, WI February 2001
Return to Reviews
Return to Livewire
Copyright © ConcertLivewire.com™; All Rights Reserved