The Bradley Center
Milwaukee
January 3, 2000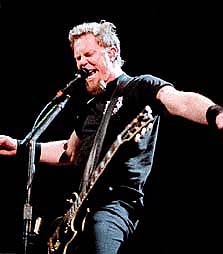 Story and Photos by Phil Bonyata Metallica has been together for 19 years, but they played old songs like "Creeping Death" and "Phantom Lord" with a rawness and energy which suggested they might have wrote them yesterday or kept them buried in the closet for 15 years.
Metallica played to a sold out Bradley Center in Milwaukee on January 3rd. The raging snowstorm outside only helped heighten the sense of danger that this band's relentless intensity personifies.
James Hetfield's unique voice, a kind of bassy howl, hit it's groove during the anti-war song "One".
All the crowd favorites "Enter Sandman," "Fuel," "For Whom the Bell Tolls," "Sad But True," and "King Nothing" were played with relentless abandon. The band's performance, along with most of their music, is a kind of driving buzzsaw. To Metallica fans this is what they love, to detractors the music can sound to similar, too monotonous.
But this night wasn't for the detractors. It was for the fans who got what they came for - a night out with one of the true pioneers of heavy metal.
Opening act, hick-hop rapper Kid Rock performed a blistering hour long set that had the mosh pit turn into a swirling sea of human bodies. The security guards had no chance of stopping it, they did everything merely to keep the tide from flooding the barricaded stage. This guy knows how to have fun and make fun of himself.
Rock's all show. He's the clown pimp who sings about sex, drugs and rock 'n roll. "My name is Kiiiiiiid!" Rock howls as the infectious strains of "Bawitaba" has head bobbing spread to the back of the Bradley Center like a new super virus.
As two leather-clad models sensually gyrated in matching cages Rock launched into "Cowboy" in which his back-up band Twisted Brown Trucker infused a bit of country honk. The Kid Rock performance was a mix of guilty pleasure and cheesy fun.