Review and photos by Mary Andrews

NMO is a moniker for the blending of the two bands, North Mississippi Allstars and Anders Osborne. They have been and continue to tour to promote their recent collaborative cd release, "Freedom and Dreams." This show was much, much more. Osborne calls it a symbiotic relationship built on friendship and mutual respect. This creative fusion produced a show that is a must see.

North Mississippi Allstars has undergone personnel changes since the bands inception in 1996, but the elements that remain the same are: brothers, Luther and Cody Dickinson. These men grew up steeped in delta blues roots music. Their father was a Memphis musician and record producer. Their first gig as teenagers was with their father as Jim Dickinson and the Hardly Can Playboys. Luther plays a multitude of guitars including a two-string cigar box guitar. Cody plays multiple instruments including drums, electric washboard, and keyboards. "Lightning" Malcolm was playing bass and singing. The band is labeled as a Southern rock blues or hill country blues band, but that is an oversimplification of what they do.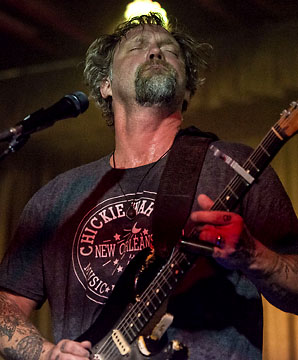 Anders Osborne is originally from Sweden and fell in love with American musicians and singers at an early age. He traveled the world playing guitar and singing. Osborne settled in New Orleans in 1986 blending in with the music community. He has become successful as a guitar virtuoso, singer and songwriter. Anders has frequently played gigs with members of The Dead, Little Feat, Voices of the Wetlands and many more. It is not surprising to see this collaboration with the North Mississippi Allstars. The other superb band members included the "Bayou Budda," Carl DuFrene on bass and vocals, and Brady Blade on drums.

The show started with Luther and Anders dueling some fine guitar work on "Let It Roll." From there Anders exited the stage and the rest of the North Mississippi Allstars took over the set. It was hard to believe that only three musicians could deliver such a full, robust sound. It seemed the amps were going to blow, but they didn't. Their part of the set consisted of blues classics from the catalogs of R.L. Burnside, Junior Kimbrough and Fred McDowell. Their treatment of these blues classics must have Burnside, Kimbrough, and McDowell bursting with pride wherever they may be. Luther's guitar sings with glee and this pleasure he shares is infectious. The ecstatic crowd certainly stomped, clapped and roared with this spiritual revival of old time blues. They culminated their initial portion of the set with a New Orleans style march through the crowd playing "Granny, Does Your Dog Bite."

Anders and his band seamlessly joined the Allstars for the rest of the show. Anders started with "Pleasin' You" and the guitar shredding began. Visually his guitar work appeared effortless, but the sound he produced was on the opposite end of the spectrum. His mission was not to show off, but it was to satisfy. There were masterful jams galore throughout the set. NMO performed six songs from the new album while the rest of the set featured older favorite tunes.

One of the highlights was Cody Dickinson doing a solo on his signature electric washboard (an instrument of his invention). This "jack-of-all musical trades" reached into the crowd as if he was going to surf. Or maybe it was when Luther played his two-string cigar-box guitar. No, definitely it was the finale of Osborne's "On the Road to Charlie Parker," a full force rocking jam that utilized every member of the band at full throttle. It was a guitar throw-down for the Guinness Book of World Records. The blues and guitar gods were smiling widely as they watched NMO on this night!

Anders has a new album in the can slated for release in the fall. North Mississippi Allstars play in the super-group, The Word, and they have a new album to be released in May. Both of these artists will be playing several gigs during the 2015 New Orleans Jazz and Heritage Festival. Catch them if you can.