The Riviera
Chicago
February 25, 2000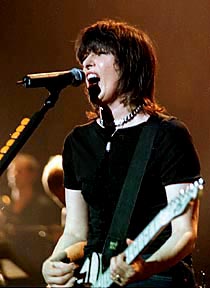 Story by Tony Bonyata
Photos by Phil Bonyata

As Chrissie Hynde walked out on the stage last Saturday evening in Chicago with her latest incarnation of The Pretenders she seem to claim something that before seemed unobtainable for an '80s new-wave band to achieve - a seat to the royalty of rock.
Looking nearly as lanky and strung-out as she did when she started The Pretenders over twenty-years ago, Hynde, at 48 and clad in black tails (which she soon discarded) and black jeans, along with new lead guitarist Adam Seymour, bass player Andy Hobson, original drummer Martin Chambers and guest keyboardist, tore into an explosive set that showcased a slew of familiar hits along with songs from their latest release Viva El Amor !
Aptly titled "The No Ballads Tour" Hynde and company jarred the sold-out Riviera Nightclub with an electrifying performance that resounded with the fire of their earlier post-punk work. Although newer material like the opening atmospheric number "Samuri" as well as a few others from Viva El Amor! didn't match the intensity of earlier work, Hynde proved that through all the fatalities - drugs, death and numerous personal changes, that have plagued the band through the years she still can keep it all together.
While their newer material peaked the audience's attention, it was the more familiar numbers from their prolific back-catalog that had them reeling. As Chambers and Hobson dialed into a lockjawed rhythm on "Message Of Love", Hynde's vocals warbled and flowed as if in some type of tantric trance. Seymour's clean, snarling guitar-lines successfully recreated the punk urgency of original guitarist James Honeyman-Scott on "Talk Of The Town" and "My City Was Gone", which saw Hynde pouncing on her guitar and slinking back and forth from the mic stand like a bruised, but not beaten, tomcat on this ode to her hometown Akron, Ohio. Hynde then went on to dedicate a faithful version of their second single "Kid" to Honeyman-Scott (who died in 1982 of a drug-induced heart failure).
It seemed all too apparent that even though the band had the guts, it's really Hynde's unique and oddly beautiful voice that has always defined the glory of The Pretenders. "Every night is Spinal Tap, I tell ya', " she joked as she donned a black cowboy hat before breaking into a soulful version of "Thin Line Between Love and Hate" from their Learning To Crawl album. Her vocals were moving on "Back On The Chain Gang" and rushed like life-blood to a weary heart on a wonderful take of the Kinks' "Stop Your Sobbing", which was also The Pretenders' first single. In the middle of a snappy version of "Don't Get Me Wrong", from their 1986 Get Close album, Hynde stopped the band and confessed, "I've been such a disappointment to my parents that I've just got to do this for them," and finished out the number in a cheesy, mock-lounge lizardress croon. With knees slightly bent and arms outstretched before her, she rode out a heavy, psychedelic version of Jimi Hendrix' "Roomful Of Mirrors" like Frankenstein's monster on a surfboard.
More than any other number performed that night, their final encore and signature hit "Brass In Pocket" seemed to exemplify what Chrissie Hynde and her band are all about as she sang along with the packed house, "I'm special, so special. I've got to have some of your attention. Give it to me!" And after twenty years we're still giving it to her.