Review and photos by Frances Sealy

Pvris made a return engagement to Tucson to perform for a crowd of eager and faithful fans. Frontwoman Lynn Gunn mentioned that the first time they came to Tucson, they performed in a pizza parlor. Things have improved dramatically for the three-piece band since that time thanks to a hit debut album release, White Noise in 2014. Their sophomore album All We Know of Heaven, All We Need of Hell in 2017 has been positively received by fans and critics alike.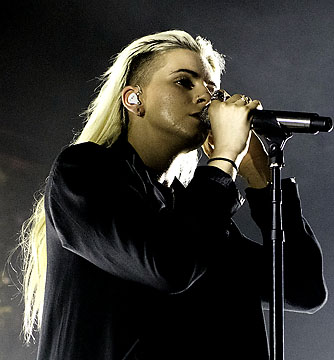 It was a night of powerful women leading powerful bands. Lynn Gunn is a major force behind Pvris. She played keyboards, guitar and sang. She started the first song "Heaven" on keys, but quickly moved to the microphone and continued singing accompanied by the guitar. Gunn spent the rest of the set bouncing between each area and each sound. The bands' music is electronic pop rock with a dark undertone. Gunn's voice is passionate and hard-hitting. It was apparent from the start that she and her fans had a synergistic relationship that was relentless.

Flint Eastwood was one of the opening bands of the night. The band is fronted by an incredibly energetic Jax Anderson from Detroit. Not only does she have the stage presence of Mick Jagger, but she also has perfect pitch. Anderson's sibling brother is the other founder of the band. However, Jax easily stole the show. Her larger than life personality was infectious and the crowd responded royally. This band was the best warm up act for Pvris since Gunn has a more laid back vibe. That said, as the Pvris set progressed, the band's energy increased. Birthday was another opening band. This was another young band that displayed a lot of exuberance during their short set.

Pvris has written all the songs on both of their highly successful albums. Gunn's lyrics are introspective, poetic, and they flow seamlessly with the melodies of the songs. Her songs are honest and that has a lot to do with their fans' obsessive following. Eight of the songs from their set were from All We Know of Heaven, All We Need of Hell. Six songs were from White Noise.

It is unusual to have fans to know the words to every song and sing along from the start of the show until the very end. They all sang loud and clear. Many of the fans brought gifts of large and small LBGT flags that Gunn accepted and hung them from the keyboards and the microphone stand. The payoff was at the end of the show when Gunn jumped off the stage and joined the fans in front of the standing room only crowd.

Alex Babinski and Brian MacDonald are the other two members of Pvris who are very worthy of mention. Both are multi-instrumentalists. Babinski plays guitar and keyboards while MacDonald plays bass and keyboards. In this case, you can never have too many keyboards. There were also two touring drummers that had their opportunity to perform a solo.