Melodic White Noise
From Black Rebel Motorcycle Club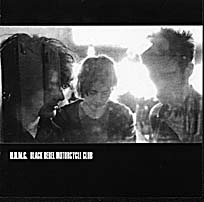 By Tony Bonyata

"Whatever happened to my rock 'n roll? questions Black Rebel Motorcycle Club, a young, hip San Francisco-based trio, on their self-titled debut album. But judging from their atmospheric hard rock mixed with latent psychedelia and the guitar-fueled white noise of the early '90s, they seem to answer their own question, as they deliver a substantial album filled with exactly what they were looking for.
Named after Marlon Brando's motorcycle gang from his 1950 movie "The Wild One," guitarist and vocalist Peter Hayes along with Robert Turner (bass / vocals) and Nick Jago (drums) have, thankfully, brought back a sonically charged marriage of melody and mayhem that hasn't been heard since bands like Ride and My Bloody Valentine reverbed into the sunset. While their subtle pop sensibilities peek through on songs such as "Love Burns" and "Salvation," they are buried even deeper on the remainder of the album, only to slowly permeate through after repeated listenings. On the moody number "Too Real" their vocals hearken back to early '70s Pink Floyd, while the ghosts of latter day Love and Rockets are caught hovering over a coagulating bassline as they beg the question "Jesus, when are you going to come back?" on "White Palms."
What is not hidden in the background, however, is their love affair with good, old-fashioned guitar noise. From the hypnotic leads that twist through "Red Eyes and Tears," to the jarring rhythms on the moody "Rifles" and Norman Greenbaum 'Sprit in the Sky'-reverb on the pouncing "Spread Your Love" these guys prove they aren't afraid to get a little dirty.
With a debut album that pushes all the right buttons, it appears that these guys are doing what they love - not what they're supposed to love. This is one bike club that will surely be making a lot of noise in the future.