Rucker continues his smooth ride into the country
Darius Rucker
AVA Amphitheatre
Tucson, AZ
May 13, 2017
Review and photos by Frances Sealy

Darius Rucker and his hot band, The Carolina Grey Boys, spent his birthday with an ecstatic capacity crowd at AVA Amphitheatre. Mr. Rucker has been churning out hit records since 1986 with his rock band Hootie and the Blowfish. However, he managed to breathe new life in his career as a solo country artist in 2008. He is the first African American artist to have number one country hit songs since Charley Pride in 1983. He has penned the majority of his hit records whether as a solo performer or as the Hootie frontman. Darius was given a royal welcome for a long awaited visit to Tucson.

Darius started with some of his upbeat country hits including "Lighter Up" and "Radio." 'Hootie' songs sung included "Time," "Hold My Hand," and "Only Want to be With You." He was an energetic performer cruzing both sides of the stage giving everyone a closer look.

Midway in the set, Darius announced, "No matter what genre the song comes from, if it's a good song, it's a good song." He started singing Garth Brooks' "Friends In Low Places." The fans were ballistic, singing along. He then jumped genre again and started singing Blackstreet's "No Diggity." Everyone was out of his/her seats and singing along.

The biggest surprise of the night came when Darius introduced one of his best friends from Nashville. Charles Kelley, member of Lady Antebellum. He joined Mr. Rucker on stage and together, they performed Lady Antebellum's hit song "Love Don't Live Here Anymore." They followed that with a hit song that they co-wrote, "Homegrown Honey." It doesn't get better than that for a country fan.

The show continued with a song that Darius was particularly proud to have written. He introduced it as a song that was written by God. He mentioned that God chooses who gets the inspiration to deliver the song. The song was "Let Her Cry." The show was over in what seemed to be far too soon. The crowd did sing an enthusiastic happy birthday for the man of the night.

Singer/songwriter, Michael Tyler opened the show with a energetic 30-minute set. Tyler performed the number one hit song, "Somewhere on a Beach," that was made by Dierks Bentley. Tyler and his band were the perfect warm up for Darius' fans.
Set List:
1. Lighter Up
2. Radio
3. Southern State of Mind
4. If I Told You
5. Time (Hootie & the Blowfish song)
6. Pink Houses (John Mellencamp cover)
7. 1st Time
8. It Won't Be Like This for Long
9. Don't Think I Don't Think About It
10. Friends in Low Places (Garth Brooks cover)
11. No Diggity
(Blackstreet cover)
12. Alright
13. Hold My Hand (Hootie & the Blowfish song)
14. Love Don't Live Here Anymore (with Charles Kelley)
15. Homegrown Honey (with Charles Kelley)
16. Only Wanna Be With You (Hootie & the Blowfish song)
17. Come Back Song

Encore:
18. Let Her Cry (Hootie & the Blowfish song)
19. Wagon Wheel (Old Crow Medicine Show cover)
20. Purple Rain (Prince cover)

Related articles:
Darius Rucker (Country Thunder 2011) - Festival review - Twin Lakes, WI July 2011
Darius Rucker - Concert review - Hammond, IN January 2011
Hootie and the Blowfish (Guinness Fleadh) - Concert review - Cicero, IL - June 1999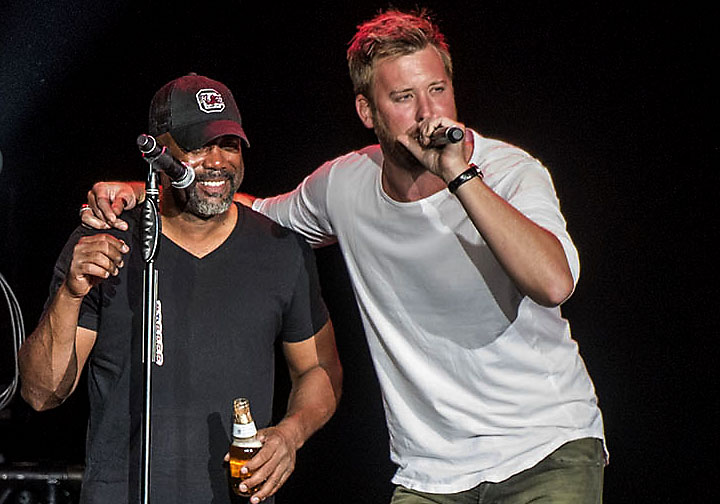 Darius Rucker and Lady Antebellum's Charles Kelley
| | |
| --- | --- |
| Michael Tyler | |
Return to Reviews
Return to Livewire
Copyright © ConcertLivewire.com™; All Rights Reserved