"The Voice" stars maturing very nicely
Sawyer Fredericks with Mia Z
191 Toole
Tucson, AZ
May 7, 2016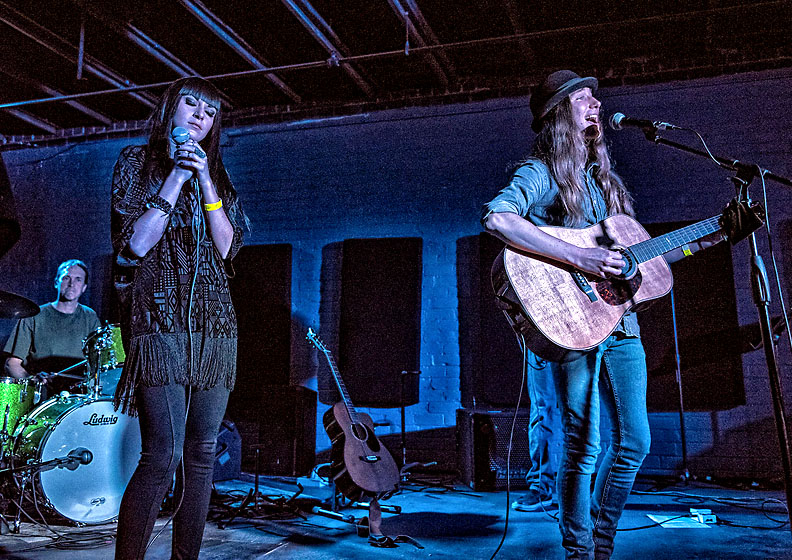 Mia Z & Sawyer Fredericks
Review and photos by Mary Andrews

Sawyer Fredericks predominently known as the 2015 winner of "The Voice" competition made his very first tour stop in Tucson with his 'Voice bud' Mia Z. 17-years old now, Sawyer proved that he could hold his own at the packed 191 Toole venue.

Sawyer started vocal training at the age of eleven. He started writing songs and performing regionally in New York state as well. Talent scouts from "The Voice" urged Sawyer to participate in the show. He chose Pharrell Williams as his coach during the competition. His eighth season win seemed to be a slam-dunk for Fredericks. His song performances on the show were reported to have sold over one million digital sales. As a winner, he got a recording contract with Republic Records.

Sawyer's first full CD release on Republic is A Good Storm, and it is scheduled for release on May 13th. Most of the new album was performed during the set. The single,"4 Pockets" was just performed on "The Voice" last week and it's getting a lot of buzz and sales on iTunes.

The diverse crowd of fans ranged from eight to seventy years old. There were many youngsters in the crowd even though both Mia and Sawyer's music reveal them to be "old souls." Mia's 30-minute set was filled with self-penned songs. She seemed to revel in the blues and she did it well. The 17-year old introduced the song, "Child," as a song written for her by her coach on "The Voice," Pharrell Williams, even though she did not make it beyond the top 12 in the competition. Mia's voice and delivery are something to behold. Her multi-octave vocal range was stunning. She is presently working on an album for independent release.

Sawyer Fredericks took the stage after a short break to continue the momentum. The set started with Sawyer singing his own song "Take It All." It was obvious that he was a seasoned, confident performer. Not only that, Sawyer has been writing songs since he was 12-years old. Anyone expecting Sawyer to sing a set of cover songs were sure to be disappointed as there were two cover songs in the entire set.

Sawyer's backing band consisted of Chris Morrison on guitar, Bob Henderson on drums, and Arthur Lee Fredericks on bass guitar. They were on stage for the first four songs and they returned for the last third of the show. Chris Morrison's delicious slide guitar in "4 Pockets" was pure pleasure to hear and a real stand out. Sawyer has taken coach Pharrell's advice and remained true to himself with his songs. There is a tendency for the public to place Sawyer in a box and compare him to folksinger, John Denver. There are some similarities, but he is an original. His song, "4 Pockets" is a rocker and Sawyer seems to continue to experiment with his voice and his songwriting. It was apparent in the acoustic portion of the show just how strong, pure and soulful Sawyer's voice is.

The first cover song of the evening was a duet with Mia Z, "Ain't No Sunshine." Both of their voices blended beautifully. "I Am a Man of Constant Sorrow" was a fan favorite performed during the encore.

This tour is nonstop through the month of May and is mostly on the West side of the United States. Catch them when they come to your neck of the woods!
Sawyer Fredericks Selist:
1. Take It All
2. What I've Done
3. Silent World
4. Forever Wrong
5. Any of My Trouble
6. 4 Pockets
7. Still Here
8. Stone
9. Early In the Morning
10. How Bearutiful
11. New Song
12. Ain't No Sunshine (Bill Withers cover)
13. A Good Storm
14. Not My Girl
15. Lovers Still Alone
16. Shots Fired

Encore:
17. Man of Constant Sorrow (Bob Dylan cover)
18. Stranger
| | | |
| --- | --- | --- |
| Mia Z | Sawyer Fredericks | Sawyer Fredericks |
| | | |
| --- | --- | --- |
| Sawyer Fredericks | Mia Z | Sawyer Fredericks |
Return to Reviews
Return to Livewire
Copyright © ConcertLivewire.com™ All Rights Reserved