Paul Simon / Brian Wilson
Marcus Amphitheater
Milwaukee, WI
June 29, 2001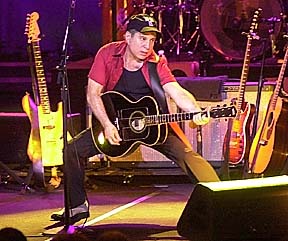 Paul Simon feelin' the groove.
Story and Photos by Terry Mayer


For most opening acts being first on stage can be a tough gig, the stadium is half full and the fans in the stands and at the beer lines are waiting for the headliner. Not so when your opening act is Brian Wilson, the brains behind many of the catchy Beach Boys tunes. Wilson looking a little shell shocked and nervous jiggled into lesser known tunes such as "Dance, Dance, Dance," "Sail On Sailor" and "Heroes and Villains."
The smattering of Beach Boys fans in the audience lipped every single word with the hunger of a group of seaman at their first buffet after being rescued from a deserted isle. "Fun, Fun, Fun" and "Good Vibrations" were executed with such expressionless demeanor that some fans weren't sure if their hero from California was back on the beach or in outer space.
Paul Simon, emerged on the stage to the warm embrace of the Milwaukee Summerfest crowd. Their cheers and screams were so loud that they echoed across Lake Michigan. The diminutive Simon opened his set with "That's Were I Belong," and did some Elvis impressions throughout the long and melodic number. He raced into "Graceland" and "You're the One" both coming off as introspective melodies encased with sensitive rhythms. The great thing about Simon is he's not afraid to omit some classics like "Bridge Over Troubled Lover," "Cecilia," and "The Boxer."
Simon played some of the favorites, but blended some new cocktails in the process. "50 Ways to Leave Your Lover" was performed in a much more electric way. "You Can call Me Al" got the women and then the men dancing with a new fervor. Simon's band was stellar. Three percussionists helped Simon's music resonate throughout your entire body.
Both the young and old were treated to a wonderful night of music from two veterans of music history that were instrumental in the evolution of pop music.