Stone Temple Pilots / Disturbed
Alliant Energy Center
Madison
October 11, 2000
| | | |
| --- | --- | --- |
| Scott Weiland | Disturbed | Scott Weiland |
Story by Tony Bonyata
Photos by Phil Bonyata


It's been a year since the release of Stone Temple Pilot's stunning album No. 4, and they're now just finally getting around to promoting it as a headlining act (having just finished up supporting a successful leg of the Red Hot Chili Peppers recent tour). But, surprisingly enough, their brief but punchy performance last Wednesday at the Alliant Energy Center in Madison showcased very little material from, arguably, their strongest work to date.
With frontman Scott Weiland's checkered past with drug addictions, revolving door visits to rehab along with his recent stay at Los Angeles Men's Central Jail, it's amazing that STP are still together as a band. But they've stayed intact throughout Weiland's downfalls, managing to squeeze in writing, recording and, when possible, touring between his binges and busts.
Amidst a sparkling glam stage setting that would have made Gary Glitter green, Weiland exploded on the stage in pimped-out attire - cocked black fedora, lose fitting shirt and tight trou', before tossing his hat to reveal a punked-out bright red mohawk, as he spat out a good portion of the opening number "Wet My Bed" into the mic through a megaphone.
The other bandmembers, guitarist Dean DeLeo and his bassist brother Robert, along with Eric Kretz, performed well-oiled workings of their back-catalog with a fierce edge, that melded early '90s Seattle grunge together with '70s arena rock.
Although the band's fiery music had a firm head-lock on the audience (who only filled two-thirds of the venue), it was Weiland who stole the show. Once criticized as a Eddie Vedder-clone early in his career, those myths were soon dispelled. His sinewy frame contorted into angular abstractions, while his shoulders percolated in an androgynous Peter Murphy-like fashion as he spun from side-to-side of the stage in a tribal dervish. His penetrating stares into the audience were unnerving, making one question whether he was high on the crowd's enthusiasm or something he copped earlier that evening on State Street. His voice was in strong form as he plowed through old favorites like "Creep," "Plush," "Dead & Bloated" and "Sex Type Thing," all from their 1992 debut Core.
Their promotion of their latest album, or lack of it, seemed an odd move, as they stuck heavy with numbers from their first two albums, Core and Purple (the latter which hit the Billboard number 1 in 1994), while virtually forgetting about their album Tiny Music...Songs From the Vatican Gift Shop. Their inclusion of the attacking "No Way Out" and "Down," both from No. 4, were sore reminders of other killer tracks from that same album, such as "Pruno" and "Heaven and Hot Rods," that were omitted from the evening. With a live performance this strong, along with the knowledge that Weiland will hopelessly, and undoubtedly, get himself into trouble again, one can hardly wait until his next parole to see what this band has up their sleeve next.
Opening for STP was the Chicago-based metal act Disturbed. Their opening theatrics of putting vocalist Dave Draiman to death on an electric chair was childish and downright silly looking, proving to be more schlock than shock. With their one-track, repetitious metal racket carrying on for almost an hour, they made STP's arrival all the more welcome. Although their staccato clangor fit quite comfortably in the Ozzfest bill earlier this year, their pairing with Weiland and company only proved these clowns don't have an act outside of that circus.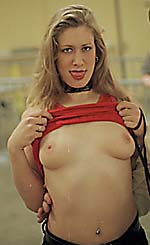 A lovely STP fan!