Smooth as silk pie
I Love the '90s Tour w/Keith Sweat, Dru Hill, Ginuwine
AVA Amphitheatre
Tucson, AZ
May 20, 2017
| | | |
| --- | --- | --- |
| Keith Sweat | Dru Hill | Ginuwine |
Review and photos by Frances Sealy

AVA Amphitheater presented Keith Sweat, Dru Hill, and Ginuwine on the second night of their Memorial Day weekend double-header and old school R & B never felt or sounded better. The night seemed to be a competition between the three entertainers.

Ginuwine had the hardest task of the day He and his band had the first set of the evening and it was still daylight (and hot). The crowd was thin at this point and he was only given a 30-minute time slot. He immediately invited the fans to come to the front of the stage as he got his 'mojo' going. He climbed off the stage, into the pit to shake hands and take selfies with the fans as he sang. As the end of his set came, he ran through the crowd singing his 'nasty' song "Pony." His crowd sprint culminated when he hugged a lucky fan in the lawn section of the venue.

As Dru Hill took over, the sun had set and the crowd had thickened. Lead singer, Sisqo announced early in the set that Jazzy was not able to perform tonight. That said, the group exploded on the stage ready to give fans everything they wanted. There was a plethora of dance routines mixed with hit songs from the past. There was no doubt that the leader of the group was Sisqo. He had two dancers with him to keep energy levels in high gear. Everybody's favorite "Thong Song" was performed during the 45 minute set.

Keith Sweat finished the show. The stage was set like a living room with couches and matching chairs along with a bar with some hard liquor. This was a show of seduction all the way. After a few introductory teaser songs, Mr. Sweat invited some of the single women in the crowd. He warned them that he does not want to get in to trouble with their husbands and boyfriends. Many women were escorted by their men on to the stage. He added single women to his living room.. He asked the couples to dance and poked fun at the awkwardness of their moves. He was trying to get them in a sexual groove that just didn't seem to happen.

Mr. Sweat's vocals and moves were flawless and his band was superb. His background singers added a special depth to the show and they had ample opportunity to show off their skills. Keith invited Ginuwine on stage to perform with him during the set. The songs went all the way back to the '90s. Sweat worked the crowd like a fine tuned machine. This show was a feast for R&B lovers and a must see tour.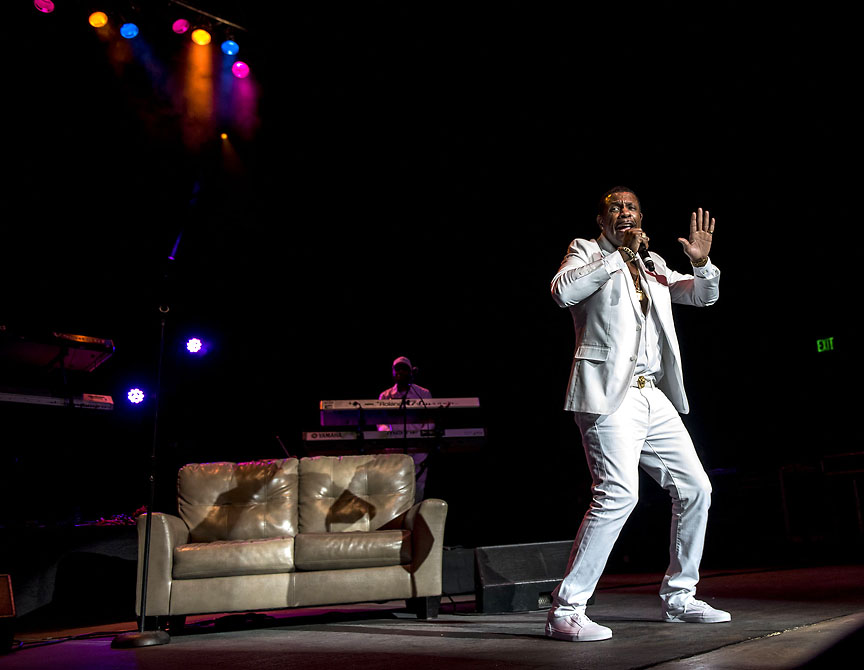 Keith Sweat
| | | |
| --- | --- | --- |
| Dru Hill | Keith Sweat | Keith Sweat |
| | |
| --- | --- |
| Keith Sweat | Ginuwine |
Return to Reviews
Return to Livewire
Copyright © ConcertLivewire.com™; All Rights Reserved