Metal's Heat Finds a Home
Tattoo the Earth 2000 Invades The Rave
The Rave
Milwaukee
July 28, 2000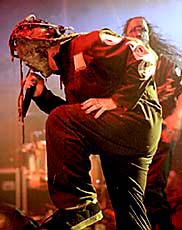 Slipknot scares the faithful at the Rave.
Story and Photos by Phil Bonyata


Sweat, blood, extreme heat and stale beer blended into a volatile cocktail Saturday night as Tattoo the Earth 2000 invaded the Rave in Milwaukee. About 4,500 hard-core and mostly tattooed metal heads moshed their way from stage to stage to catch some of heavy metals up and coming acts along with some old fist pounding favorites.
This is the defiant alternative to the commercially successful Ozzfest.
The concert's second stage featured buzz drum, in your face bands like Amen, Spineshank and Nothingface. These bands basically produced relentless ear shattering sonic booms that got your heart racing a hundred miles a minute and cursing the fact that you forgot to bring your earplugs. Mississippians Full Devil Jacket mixed lyrics about drug addiction and child abuse that came off sounding suspiciously like Godsmack slathered with some Pearl Jam on top. The hard rock of Nashville Pussy, a band any white trash head banger would love, ain't very creative, but to watch guitarist Ruyter Suys straddle speakers, a lucky person in the front row and her band mates is worth the ticket price alone.
Outside was a metal heads fantasy land. You could get tattooed, pierced, pick up some free music and down enough beers to ready yourself for the battles that lie ahead in the pit. So what, you were afraid to go divin' in head first, at least you looked cool!
On the main stage Sevendust kicked up some action with "Denial" and "Licking Cream". Lead singer Lajon Witherspoon whips his long dread locks around like a lethal weapon and eyes the crowd with long and blinkless stares like a lion waiting for its prey to come in close enough for the kill. What's a real metal concert without such theatrics?
As the temperature inside reached a critical level and the "Molotov cocktail" of beer and testosterone pushed tempers to the near boiling point, Slayer hit the stage. Slayer is part of the early 80's thrash metal invasion that has many imitators but few equals."Chemical Warfare" showed the faithful, and there were many in the crowd, that their music is no nonsense kick-ass metal. Drummer Paul Bostaph's speed beats anchored the churning guitars of Kerry King and Jeff Hanneman.
Slipknot stormed out of the gates and into the Rave's inferno. One fan from New Jersey said "If it ain't hotter than hell and if you're not miserable, it ain't metal!"
The nine members of Slipknot, all wearing different ghoulish masks and numbered jump suits, incite the sweat drenched crowd with their industrial and primeval beats. Lead singer Corey Taylor spits, "It's only about two things, you and us." These guys from Des Moines, Iowa came straight out of some horror comic that never made it to press. Still, the hypnotic energy produced by such songs as "Purity," "Prosthetics" and "Wait and Bleed." cannot be denied.
These macabre clowns, who at one point tried to persuade the audience into attacking the security guards, are basically discarded cartoon characters that you watch with guilty pleasure and a little bit of awe.
| | |
| --- | --- |
| Slayer | Nashville Pussy |
| Sevendust | Amen |