Country Thunder 2001
Country Thunder Fairgrounds
Twin Lakes, WI
July 19 - 22, 2001

Wynona flies high.

Story and Photos by Terry Mayer

With temperatures reaching into the 90s last weekend and the humidity unbearable, the fans of country music could have cared less. Making their annual pilgrimage to Country Thunder the anticipation wiped every bead of perspiration away. The sweltering heat only capped their efforts to see some of the biggest names in country music of today and yesterday. Thousands filled the campgrounds outside partying with the special abandon that only country music brings.
There were venders selling cowboy hats, belts and bandanas. Hey, you have to look the part, you know. The brave could even sample free Spamburgers. Mechanical bulls bucked to the strains of slide guitars and twangy vocals. Rock climbers fell to the crashes of the half-toned cymbals.
A sexier and fitter Jo Dee Messina, who has been singing since she was a teenager, was the opening act on Thursday. With explosions of confetti blazing in the air, she danced and strutted so sexily Britney Spears would have been jealous. Friday night had Herman Hermits. Herman's Hermits? Are they country? Billy Gilmon and Jessica Andrews, Chris LeDoux and the main act Alan Jackson filled the bill that night.
Saturday found the veterans of Country music. The Oak Ridge Boys who proved that they could still keep up with the younger performers, and yes they did play "Elvira" to the delight of the fans. Next was Clay Walker, as somewhat of a newcomer he showed he could hold the crowds interest and that nice guys don't always finish last. The evening ended with Wynonna entering the stage sporting a purple flowing oversized shirt and a head bandana and belting out the lyrics to "Tough Enough". Chopping her guitar and moving around the stage, albeit a little slowly, the girl proved that she loves to perform.
Sunday ended the country music portion with the raw and heartfelt old-timer Charlie Daniels. His mix of country and rock was peppered with sprinkles of been there honesty. The festival then took a turn for the worse when CCR took the stage. Take away John Fogerty and all you have is a hollow shell.
Styx surprisingly ended the country gathering. Why in the world were these bands ever booked? CCR and Styx were huge mistakes for a country festival. Heck, they wouldn't even shine at a county fair.
Maybe Country Thunder was trying to reach a different audience, but most people were confused and wondered how the closing night of the four night country fest could end this way.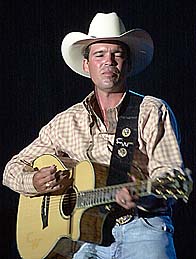 Clay Walker
Return to Reviews
Return to Menu