Story and photos by Andy Argyrakis

Since 1969, ZZ Top has been churning out a bawdy blend of blues, roots music and good old fashioned American rock n' roll. It's an amalgamation that never seems to go out of style for the group and one that's kept all three original members (vocalist/guitarist Billy Gibbons, bassist Dusty Hill and drummer Frank Beard) by one another's side since the very beginning. And over three and a half decades later, the trio's chops remain fierce, pulling together a blistering rhythm section and potent wall of electric distortion, even without the help of supplemental musicians or the bells and whistles of backing tracks.

The group's current tour continues in that lean and mean tradition, focusing on a simple but effective stage setting with two towering stacks of white amplifiers, a logo-drenched percussion ensemble and candy-cane styled microphone stands (surely hinting at the band's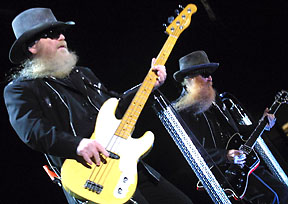 ongoing inferences of sexual innuendo). But no matter what the message, ZZ Top came to rock with abandon and particularly gravitate towards the blues given the Windy City location. "Cheap Sunglasses" served as an early set example of the band's ability to not take its lyrics too seriously, but still deliver with potent riffs and Gibbons' metallic growls. "Pearl Necklace" followed similar suit (also addressing a bodily accessory), though more unpredictable Tex-Mex leanings soon set in for "Goin' Down To Mexico."

The mood continued to shift sonic directions and geographic regions, including flourishes of Delta and old school Chi-town influences, plus an unconventional blues trickled rendering of Jimi Hendrix's "Foxy Lady." Unfortunately the cross section of styles also included the sappy power ballad "Rough Boy," which wasn't all that impressive the first time around and continues to tarnish with age. Yet the band rebounded by unloading three key aces from its card deck: the enduring classic rocker "Gimme All Your Lovin,'" the tongue in cheek "Sharp Dressed Man" and the lusty "Legs."

As hot as the band sounded for most of the evening, its one problem is the ongoing lack of new material. For the past four years, the band has been stagnantly supporting Mescalero (RCA) on the road with not even a hint of new material outside of regurgitated compilations. Clearly there's still plenty of steam left in the band's sails, but without an attempt to evolve and stretch beyond the usual song suspects, ZZ Top risks becoming an unapologetic nostalgia trip. Hopefully they'll abolish those temptations with a fruitful trip to the studio, which should be an easy transition following this tightly lubed road cycle.