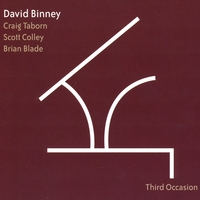 8) David Binney
Third Occasion
Binney is back with a new recording showcasing the alto saxophonist's brilliant playing and exceptional compositional skills and all jazz fans should be rejoicing. This time he is aided by some of his usual cohorts, Craig Taborn on acoustic piano, Scott Colley on acoustic bass and Brain Blade on drums. But, never content to rest on his laurels, Binney has challenged himself by writing for a brass section. The result is music that is complex, but not sterile, experimental, but melodic. Binney continues to push himself to reach new horizons while creating some of the most interesting and enthralling music on the modern jazz scene on this exemplary recording showing a great deal of care, intelligence and artistic originality by one of the most original and important jazz artists today.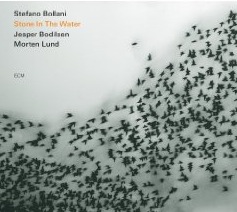 7) Stefano Bollani
Jesper Bodilsen & Morten Lund
Stone in the Water
Stefano Bollani's luminous, liquescent technique on the piano has been opening eyes ever since trumpet great Enrico Rava plucked him from the Italian pop ranks and set him on a course to success within the European jazz world. He has been playing with his so-called "Danish Trio" since 2003. Here they create a shimmering and sublime sensual delight of a recording. Bollani provides most of the material and is not afraid to mix in Monk-like intervals despite the mostly smooth and subdued nature of the music. Nor is the music simply placid, an energy bubbles beneath the surface, erupting when necessary. Somewhat reminiscent of Bill Evans' trio recordings, Bollani and his Danish friends have created the best and loveliest piano trio recording of the year.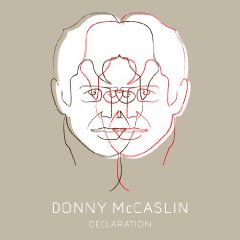 6) Donny McCaslin
Declaration
With Declaration, Donny McCaslin continues to lay his claim as one of the very best tenor saxophonists in the world, this time employing a brass ensemble, allowing him to play off of the brass parts, and play off of them he does. He utterly shreds with a ferocity that is breathtaking, but also plays with great beauty, as befitting the birth of his daughter Claire - an event that clearly influenced the writing on this album, which veers from sheer joy and excitement to wonder and appreciation of the mystery of life.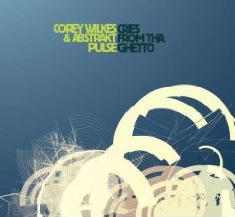 5) Corey Wilkes
& Abstrakt Pulse
Cries From tha' Ghetto
Young trumpet star Corey takes his musical output in another, more intense direction and up another level. This great release features the young trumpet lion with his stellar Abstrakt Pulse group (featuring some of the best young players in Chicago) on an impressive set of vibrant and insistent compositions that hearken back to the sounds of the 1960s, combined with the free jazz styles of the AACM, while at the same time moving the music forward into the future. Wilkes and his bandmates burn brightly with the intelligent and passionate playing that has made him one of the young superstars of the modern jazz scene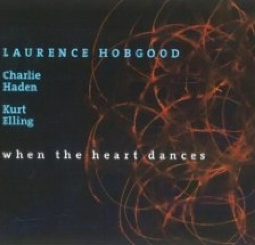 4) Laurence Hobgood
Charlie Haden & Kurt Elling
When the Heart Dances
This truly is a lovely production and a sheer delight for the ears. The dream pairing of lyrical pianist Laurence Hobgood with the venerable veteran bassist Charlie Haden would be pleasure enough, but singer Kurt Elling (with whom Hobgood has performed with for years as musical director) also makes a gracious appearance on three tunes. The almost fiendishly talented Hobgood may be the most overlooked pianist on the planet, and the interplay between him and Haden is magical. This first rate recording combines exceptional musicians, great tunes and a warm and natural recording that will have your heart dancing.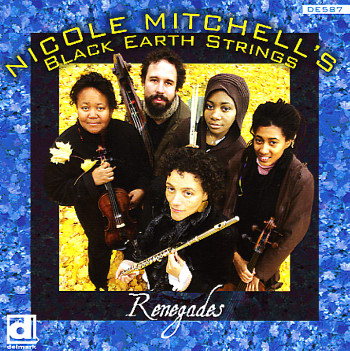 3) Nicole Mitchell Black Earth Strings
Renegades
Flautist Mitchell leads this group through an exciting, dynamic and organic montage of African American musical styles ranging from rhythmic sounds of the African continent to North American swing, with hints of gospel, folk, classical chamber music and free form modern jazz thrown in as well. The players are first rate and there are grooves aplenty, and delicious melodic form providing a framework on which to hang the musical tapestry on these short pieces, including the extremely hip "What If." Wonderful original compositions performed admirably by this stellar ensemble.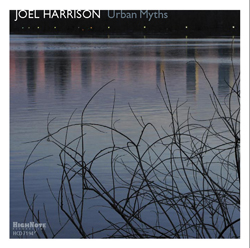 2) Joel Harrison
Urban Myths
One of the most interesting, enjoyable and exciting albums of the year comes to us from guitarist/composer Joel Harrison, who decided to use the sounds of the music of the '70s that influenced him growing up, including artists like Josef Zawinul, Wayne Shorter, Chick Corea, Herbie Hancock, Miles and Zappa as a springboard. This merger of jazz, blues, funk and rock could be a mess in lesser hands, but Harrison has been making a name for himself as a serious composers of note who can successfully blend genres and doesn't disappoint here with these original tunes. Harrison's main foils are outstanding violin burner Christian Howes and the incomparable alto saxophonist David Binney. An album that will leave your heart racing.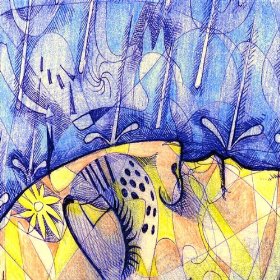 1) Tobin Mueller
Rain Bather
No other album I heard in 2009 brought me more pleasure than Tobin Mueller's wonderful "Rain Bather." A kaleidoscopic panorama of pulsing big band horns, wacky organs, fiddles, flutes, clarinets and beats, that inexplicably fell completely below the radar, this truly wonderful album succeeds by accurately capturing the sound of someone smiling.