Story and photos by Karen Bondowski & Phil Bonyata

Famed Hollywood actor Jared Leto ("Requiem for a Dream," "Fight Club," "American Psycho," "The Thin Red Line," "Alexander"...) does not like to promote himself within his band - 30 Seconds to Mars - but make no mistake he doesn't have to. His rabid fans make no bones on why they pay good money to see the him. Mixing wild shreiks while singing just about every chorus verbatim - in many cases the passion in the fan's deliveries were as strong as Jared's himself.

Opening the night with "A Beautiful Lie" Leto and the boys (Tomo Milicevic - guitar, Matt Wachter - bass and Jared's brother Shannon Leto - drums) delivered the giant choruses and electrified but deliciously spacey guitars with a genuine fervor.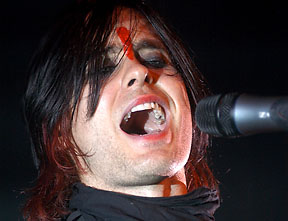 "Attack" and "From Yesterday" proved that this was far more than just a one man show with Shannon's and Matt's roaring attack chugging nicely alongside Tomo's expressive chord changes. Jared, attired in a drapelike black outfit that harkened back to the less-then-glorious fashions of the '80s, took the "o" out of "screamo" with an abusive but very effective high octave. "Buddah for Mary," and "Praying for a Riot" were reminders of their prog rock influences rather than the aforementioned label of "screamo." Jared is quite the showman - while sucking the life out of his mic and then jumping and strutting like a musician who never needed any acting lessons.

"R-Evolve" took a few exploratory left hooks before nailing the final blow with a battered barrage of guitars. While the band left the stage, Jared is the last man standing to kick off the encore. While splintering shafts of light flickered across his form - Leto played some beautifully stripped down versions of "Capricorn" and "Was It a Dream?" As the lights dimmed the rest of the band emerged from the darkness to rip the doors off of "The Fantasy." Finally, an actor has jumped the great chasm of artistic change and turned into a successful musician. Yes, Russell Crowe, Kevin Bacon, Keanu Reeves and Bruce Willis you finally have your muse.

Openers Head Automatica, played their crisp and jaunty rock with a taste for the dramatic. Singer Daryl Palumbo and the band let power-pop flow with tunes from 2006's Popaganda to 2004's Decandence. The band's sound is not original, but is still energizing while Palumbo's voice warbles just like Hot Hot Heat's Steve Bays and does a stripped down stage version of Mick Jagger circa 1975.