Story and photos Matt Schwenke

Breathing life back into the songs of Alice In Chains years after the death of Layne Staley (1967-2002), the band's new tour, featuring William Duvall on vocals, is both an homage to their former frontman and a retrospective of their unique rock catalogue. While Duvall's voice could easily be mistaken for Staley's on first listen, Duvall's vocals proved to be more dynamic but with less grit.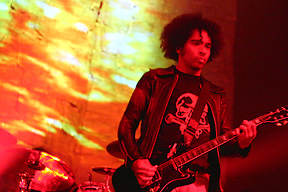 Overall, Duvall's voice was the perfect fit for the often dark tunes and was just different enough to give the songs a fresh contrast.

The night started a bit slow with "Again" and "Junkhead," drudging up the band's murky base, but as the band fed off the energy of a lively full house, Jerry Cantrell led the way with guitar ablaze in "Them Bones," "Grind," and "Angry Chair." Playing a video tribute to Staley midway in the show as the stage crew rearranged the set for a sit-down acoustic section, many a beer and lighter were raised, and the attention to detail in the run of acoustic songs that followed highlighted the lyrical talent of Staley and the songwriting of the entire band-- "Brother" featured impressive harmonies between Duvall and Cantrell, "Killer Is Me" featured Cantrell's eerie guitar ability, "No Excuses" featured the creative rhythms of bassist Mike Inez and drummer Sean Kinney, while "Got Me Wrong" featured the crowd taking over the vocal lines.

Reassembling back into full electric form, a video montage of Alice In Chains audio, pics and videos covered the gap and the band returned in full stride with Cantrell later providing voice box on "Man In The Box." Though there were no new material to indicate any recording future for the band, their extremely tight and powerful performance begs for those waters to be tested.