All Music Guide Definitive Source for Country Music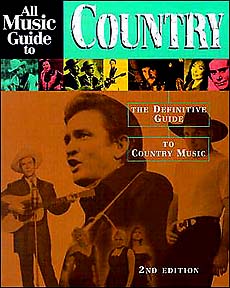 All Music Guide to Country
2nd Edition
Edited by Vladimir Bogdanov, Chris Woodstra &
Steven Thomas Erlewine
4 1/2 (out of 5 stars)
Reviewed: Feb. 16, 2004
Review by Andy Argyrakis

With the recent passing of Johnny Cash, the mainstream breakthrough for the likes of Faith Hill, Martina McBride, and Shania Twain, and the patriotic unity spread by Alan Jackson, Toby Keith, and Charlie Daniels, country music is more visible than its ever been. Granted, that genre encompasses many elements, from old time southern crooners, to Tex Mex bar brawlers and boozers, to pop minded balladeers, but no matter how one defines it, the genre has become a thriving entity in the mainstream.
Though purists may balk at the consistent examples of crossover or a bandwagon jumping homage to "The Man in Black" following his untimely passing, at least such stars are getting the credit they deserve beyond line dance clubs, rodeos, and Bible belt stereos. And for fans of every act no matter what category, the second edition of the All Music Guide to Country provides the educational basis, critical analysis, and sales status to satisfy even the most serious fans' obsession. The main bulk of this volume consists of nearly 900 pages laden with biography, discography, and explanatory information about everyone from the biggest and best (Willie Nelson, Hank Williams) to the creme of the new country crop (Brooks & Dunn, Kenny Chesney) to a look at many under appreciated but incredibly talented entities (Chicago's Waco Brothers, the Wilco tied Uncle Tupelo).
In all cases, readers will get the nuts and bolts of each CD released in the artist's catalogue with careful attention paid to stylistic components, songwriting structure, impact on the industry, and a star-rating summary. For the most part, contributors are experts in the country music field, and their depth for reviewing even the most obscure and forgotten acts is exhaustive and enlightening. Aside from such album-by-album analysis, a succinct biography is included on each artist to educate readers with the proper background information and reference points (thus reinforcing the reviewer's comments).
As an added bonus beyond the 1,219 artists and 10,281 recordings included, there are over 20 essays that provide a crash course on country music to the amateur, culling together useful entry examples and musical maps to drive home their point. For instance, segments on "Honky Tonk," "Country-Pop," "Western Swing," and "Roots Rock" trace their own origins, while charting out all the acts associated with such sub-cultures in a family tree format. The only flaw throughout the entire 1,000 pages is the lack of any pictures whatsoever, which aside from the cover, can make the fine print and endless stream of it a tedious column to column read. Had snapshots of any artists been included, the reader could have has a better understanding of the time period from which they came and the physical character traits that would have perhaps leaked into their musicianship. But still, the All Music Guide to Country is the definitive information source for a genre that's spanned many generations and continues to spin off in noteworthy and influential directions.


Here's Your Chance to.... Respond!


Your feedback will be featured on
Rant or Rave within 24 hours.
Return to CD Reviews
Return to Menu