Story and photos by Karen Bondowski

Hoping that lightning strikes twice for superstardom, Tom Delonge of one of the most popular bands, Blink 182 (and briefly Box Car Racer) grabbed a few friends as of late last year after the breakup of Blink 182 to form Angels & Airwaves and decided to bring along past Box Car Racer guitarist David Kennedy.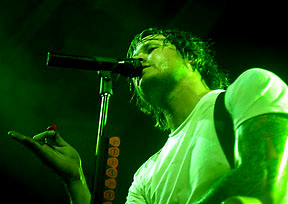 Drummer Adam Willard has a rich musical history with such bands as Alkaline Trio, American Hi-Fi, The Offspring and Rocket From the Crypt. Rounding out the band is bassist Ryan Sinn - from a very popular indie band known as Distillers.

Quickly jelling as a tight knit band, they released their very first AVA CD through Geffen Records titled, We Don't Need To Whisper in May. Playing their very first show on April 12th at Pomona, CA's Glass House. It was sold out within minutes. Could this be the tip of the iceberg of greatness or a strong start out of the gates only to fizzle at the end? This night's performance pointed to the former.

As each member of Angels & Airwaves walked out from the dark - the roaring buzz was immediate. They held their heads up high with confidence and smiled happily to the sold out crowd and jumped into the fire with "Valkyrie Missle." The wailing hooks and fuzzy Edge-like guitar took off into a chaotic rhythm. Proving quickly that these musicians were no strangers to the stage. With their biggest hit so far, "The Adventure" starting to find a permanent home on the airwaves, the band smartly followed behind Tom's powerful vocal lead.

In between songs, Tom was quickly making friends with their fans. Taking time out to say thank you for the many years of supporting Blink 182 and thanking them for coming along on this new ride. Taking everyone a bit off of the tracks for a moment, AVA took the light for a more mellow tune, with Box Car Racer song "There Is." Brooding melodies overlayed with Tom's surprisingly full vocal range (proving that it's absence on his Blink-182 records was less his limitations than the constraints of the bands' three chord versatility). Tom has seemed to mature musically as well as vocally. "Good Day" - was played out much longer in an emotional spin. As members quietly chanted "la dada dada" they find the crowd singing right back with them as the last straining beats were quietly laid to rest.