Story and photos by Andy Argyrakis

It's impossible to pigeonhole Ravinia's concert calendar since it spans such a diverse line-up of classical, pop, rock, soul and country every year. But this summer in particular boasted two powerhouse double bills that dated back to the decade of decadence, starting with The New Cars and Blondie earlier this summer, along with The B-52's and Missing Persons package as the season winds down. Just like the first 1980s-based experience, the venue had no trouble packing in the cozy pavilion and spacious lawn with fans salivating for some "Rock Lobster" and ready to pretend they were "Walking In L.A."

Cheesy song references aside, headliners The B-52's continued riding the wave of its surf-inspired new wave rock that still finds a regular home on commercial radio, along with the underground cult crowd.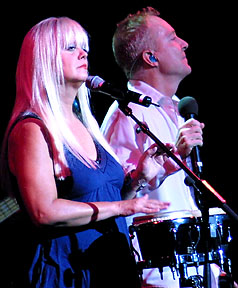 As over the top as always, key figures Kate Pierson, Cindy Wilson and Fred Schneider led the group's vocal line with flowing hair-dos and sun dresses (at least in the ladies' case), along with vivacious personalities and unashamed flamboyance (all of the above). Sure the band's demeanor has always walked a little too close to the kitsch line, but members will be the first to admit and embrace those qualities since they're still able to fuel the party for fans on any side of the "cool" line.

The group basically turned in a greatest hits set (pulled amply from 1998's Time Capsule: Songs For a Future Generation) and seemed content with their focus on the familiar, since after all, that's exactly what the masses who camped out with picnic baskets and blankets were expecting. It may have been predictable, but The B-52's have largely been a singles band rather than full album innovators and rose to the occasion with its cheerful, sunshine influenced pop. "Private Idaho," "Mesopotamia," "Roam," "Channel Z" and "Deadbeat Club" scored points with their eccentric but scrumptious grooves, while "Rock Lobster" combined radiant beats with hula-hoop worthy swirls. Yet it was the obligatory "Love Shack," which despite being found guilty of camp in the first degree, brought the house down (especially the lawn dwellers who could be heard singing at the top of their lungs even in the closer seats).

Notwithstanding that string of bon-a-fide hits and a handful of more popular catalogue cuts that earned cheers, The B-52's were still missing one integral element.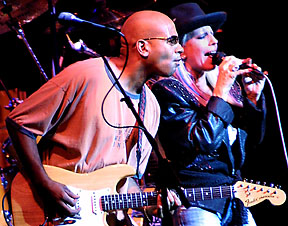 Without a new album to promote, the group appeared more like a jukebox on wheels rather than fully seeking the same type of cross generational appeal tracks like "Love Shack" and "Roam" have already suggested. The band's last official release was 2002's Nude on the Moon: The B-52's Anthology, its second compilation project in a row that basically fleshed out Time Capsule with rarities. Considering the last proper release was 1992's Good Stuff makes an all new original project eons overdue and something worth finishing before any further road trips.

Openers Missing Persons haven't exactly been overflowing with fresh material as of late, but front woman Dale Bozzio is a spectacle in and of herself that keeps fans on their toes by constantly switching up her costumes. Though not as outlandish as her 80s get-ups, she still oozed sensuality and certainly shook up the evening with a series of erratic, almost drunken banter in between songs. Despite the odd behavior, her pipes remained insistent, as demonstrated throughout club favorites like "Words," "Destination Unknown" and "Walking In L.A.," which her backers executed quite competently even though they weren't the original members. Unfortunately Duran Duran graduate Warren Cuccurullo and current session player extraordinaire Terry Bozzio were nowhere in sight, which would've certainly added additional legitimacy to the singer's quirkily enjoyable efforts